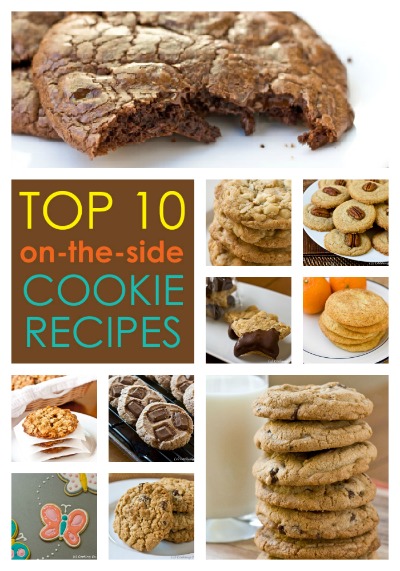 Maybe it's because I happen to love cookies, but I have found more terrific cookie recipes printed on the side of food packages than any other type of recipe. My very first post on this blog featured a cookie recipe (the classic Toll House chocolate chip recipe) – since then I've posted almost 20 more amidst all the other on-the-side "hidden gems" I've found out there. I've compiled my Top 10 Favorite On-the-Side Cookie Recipes (including a new one – Oatmeal Scotchies) for you today. Grab a glass of milk and enjoy!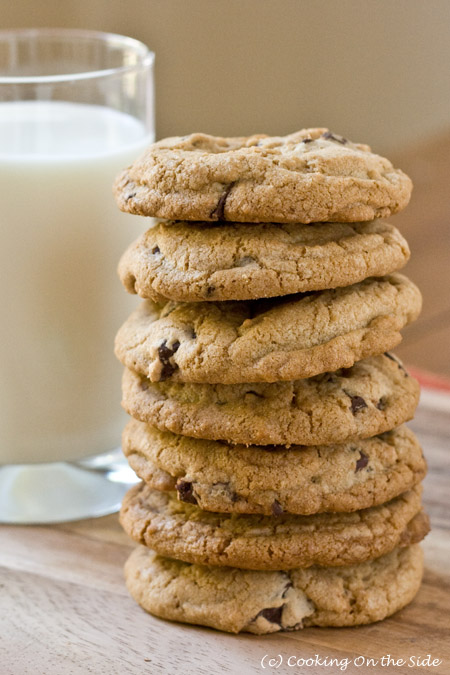 I've tried a lot of on-the-side chocolate chip cookie recipes over the years, but this one from the back of package of Barry Callebaut chocolate chunks is the best of them all, in my opinion. They're thick and chewy and, since there's no chilling required, you can bake them off right away (if you can stand to wait a few days, I still think the David Leite's chocolate chip cookie recipe from the New York Times is the very best, next to my mom's!). What makes a chocolate chip cookie chewy? How can I make thicker cookies? Or thin and crisp cookies? Find out in this post!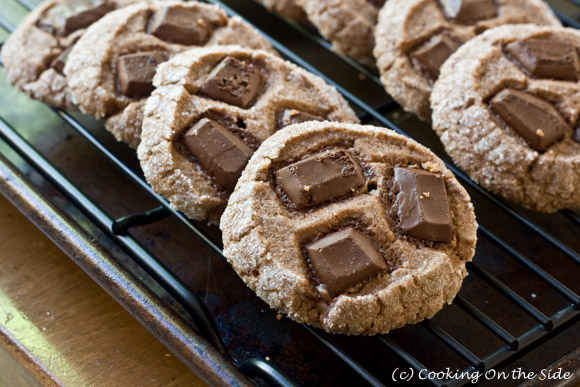 Jacques Pepin's Chocolate Chunk Cookies
The recipe for these sandy-textured chocolate sablés comes from the legendary Jacques Pépin, printed on the Scharffen Berger Semisweet Baking Chunks package. You roll the cookie dough in sugar before slicing and baking them, which treats each cookie to a sugary rim. They melt in your mouth!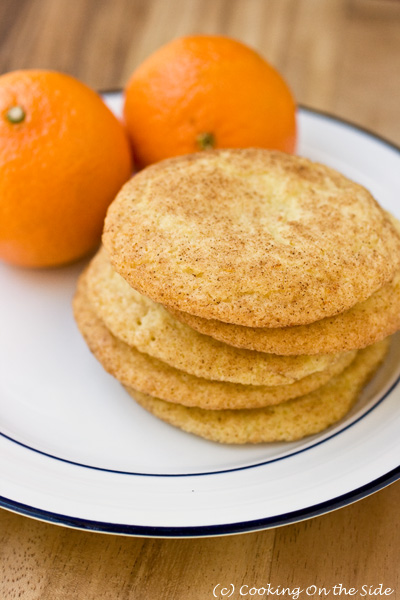 Clementine Orange Snickerdoodles
If something tastes great with cinnamon and sugar, chances are it'll make an excellent snickerdoodle. This was most definitely the case when I brought citrusy clementine zest and juice to the classic snickerdoodles recipe from the back of the Gold Medal Flour all-purpose flour package.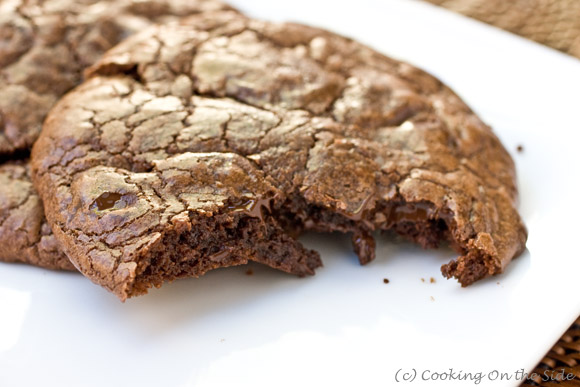 These incredibly chocolaty cookies, from inside the Ghirardelli Semi-Sweet Chocolate Baking Bars wrapper, are pretty much chewy, gooey brownies in cookie form. The recipe makes just a dozen cookies – this little bit of portion control helps! 🙂
No eggs, no leavening agents – these cookies, from the back of the Ralph's Pecan Halves package, owe their rich flavor and light texture largely to good ol' butter and brown sugar, much like a traditional New Orleans praline.
Oatmeal Scotchies
Here's the latest addition to my stash of cookie jar-worthy on-the-side cookie recipes – chewy oatmeal cookies studded with sweet butterscotch chips. Get the recipe at the end of this post!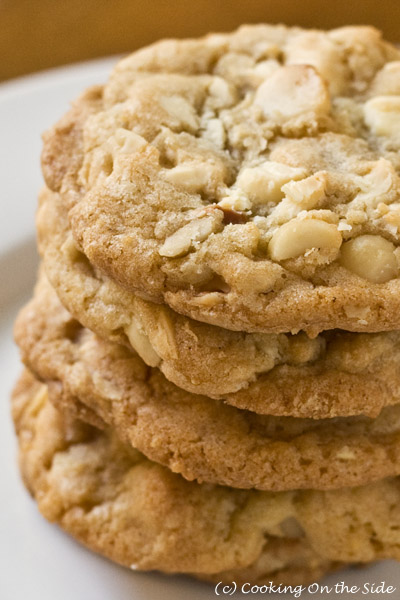 White Chocolate Macadamia Cookies
Today, White Chocolate Macadamia Cookies are a little retro. You don't see them quite as often as you used to – but a great-tasting cookie never goes out of style. The cookies from this recipe, from the back of the Ghirardelli White Chips package, are just as yummy as my ten-year-old self remembers.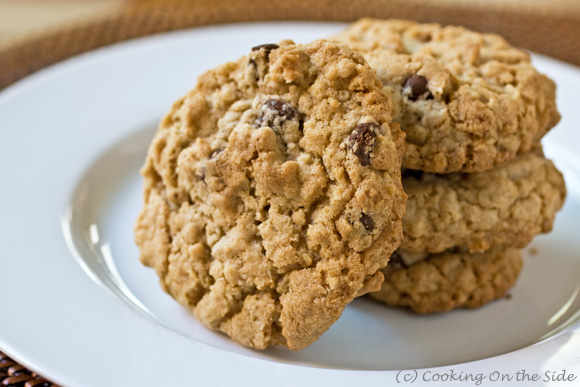 Chocolate Chip Oatmeal Cookies
What makes these Chocolate Chip Oatmeal Cookies really stand out is their flavor. A dose of cinnamon and ginger in the recipe, from the back of the O Organics Chocolate Chips package, give a gentle hint of spice that works so phenomenally with the chocolate and the nutty oats.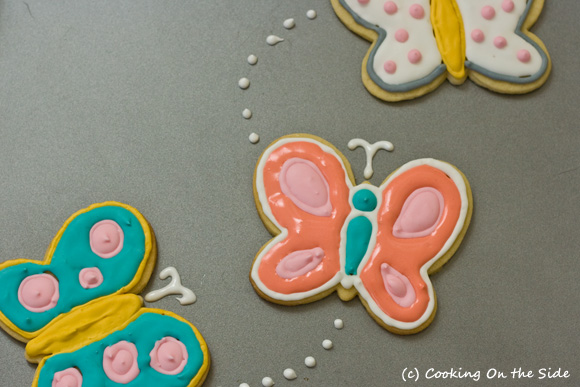 Until I sat down to decorate these sugar cookies I'd forgotten how relaxing and enjoyable punching shapes out of dough and creating little royal icing designs can be. I found this basic, buttery sugar cookie recipe on the back of the Wilton Butterfly Comfort Grip Cutter package and settled in for a crafty afternoon.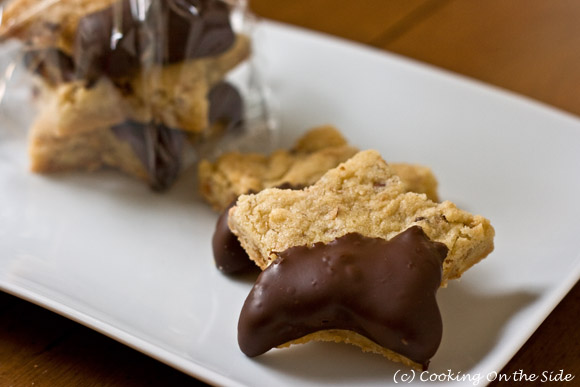 Shortbread is rich and sweet enough on its own, and this one with the toffee bits was no exception. But the chocolate makes it just a little bit more special – perfect for packaging as edible gifts. This recipe came from inside the Horizon Organic unsalted butter package.
More Terrific On-the-Side Cookie Recipes:
And…last, but not least…get baking with the Oatmeal Scotchies recipe (from Nestlé):
Oatmeal Scotchies
From the back of the NESTLÉ® TOLL HOUSE® Butterscotch Flavored Morsels package
Prep time: 15 minutes | Cook time: 20 minutes | Total time: 35 minutes (plus cooling)
Yield: 4 dozen cookies
INGREDIENTS:
1 1/4 cups

all-purpose flour

1 teaspoon

baking soda

1/2 teaspoon

salt

1/2 teaspoon

ground cinnamon

1 cup (2 sticks)

butter or margarine, softened

3/4 cup

granulated sugar

3/4 cup

packed brown sugar

2

large eggs

1 teaspoon

vanilla extract or grated peel of 1 orange

3 cups

quick or old-fashioned oats

1 2/3 cups (11-oz. pkg.)

butterscotch chips
DIRECTIONS:
Preheat oven to 375° F.
Combine flour, baking soda, salt and cinnamon in small bowl. Beat butter, granulated sugar, brown sugar, eggs and vanilla extract in large mixer bowl. Gradually beat in flour mixture. Stir in oats and morsels. Drop by rounded tablespoon onto ungreased baking sheets.
Bake for 7 to 8 minutes for chewy cookies or 9 to 10 minutes for crisp cookies. Cool on baking sheets for 2 minutes; remove to wire racks to cool completely.
PAN COOKIE VARIATION:
Grease 15 x 10-inch jelly-roll pan. Prepare dough as above. Spread into prepared pan. Bake for 18 to 22 minutes or until light brown. Cool completely in pan on wire rack. Makes 4 dozen bars.