I know we're just coming off of a major cookie blitz with the last post and, yes, there are a million and one things on my to-do list that I probably need to take care of before posting another cookie recipe. But the thing is – I want to post these Mint Chip Cookies. You might even say I need to.
The kitchen is a haven for me. I love to cook and bake when it's time to celebrate, but I also turn to it when I need some emotional solace. Life has been a bit stressful lately, as is evidenced by the mounting stacks of muffins, cookies and soups accumulating in my freezer. It's not really about the eating part – let's be clear, I do partake – but the act of preparing food, for me, is more about redirecting my energy away from stressors and toward something positive, meditative. I can make something with my own hands, refine my technique and – hopefully – create something amazing I can be proud of and that I can share with my family and friends. This is my happy place.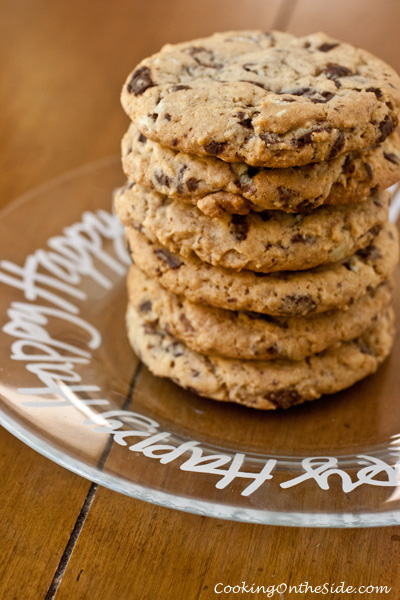 My food blogs, as extensions of my kitchen, are also my happy places. Sometimes blogging can feel like work, but mostly this opportunity to cook and share is a significant source of happiness for me. There are a few tasks that could have (arguably, should have) taken priority during my precious both-kids-at-school time this morning, but for my own sanity I needed to write today and to share this incredible Mint Chip Cookies recipe. It's too good not to pass along immediately.
This recipe, which I found on the back of the Andes Crème de Menthe baking chips package, is one of the best I've tried in a long time. They're like a cross between chocolate chip cookies and Thin Mints (aka, totally addictive). You assemble them differently than most other drop cookies I've tried – all the ingredients except the flour are blended together at once, then the flour is added at the end. They also have you chill the dough, slightly flatten the scoops before baking and bake on an upper rack. All of these techniques combine into a thick and chewy cookie, destined to bring much happiness to both the baker and the eater. 🙂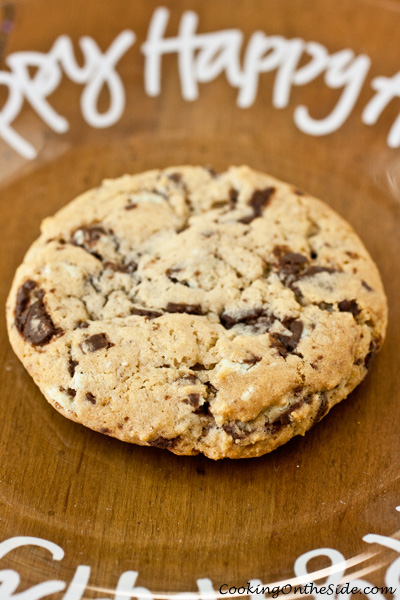 Mint Chip Cookies
From the Andes Crème de Menthe Cookies on the back of the Andes® Crème de Menthe Baking Chips package
Prep time: 1 hour 10 minutes | Cook time: 45 minutes | Total time: 1 hour 55 minutes
Yield: 4 dozen cookies
INGREDIENTS:
1/2 cup

salted butter – softened

3/4 cup

dark brown sugar

1/2 cup

white granulated sugar

1 teaspoon

baking soda

1 teaspoon

baking powder

2 teaspoons

vanilla extract

2

eggs

1 package

(10 oz.) Andes® Crème de Menthe Baking Chips or 2 packages 4.67 oz Andes Crème de Menthe or Toffee Crunch Thins, chopped

2 2/3 cups

sifted all-purpose flour
DIRECTIONS:
Blend butter, sugars, baking soda, baking powder, vanilla and eggs until mixed.
Stir in Andes Baking Chips and then flour. Chill approximately one hour in the refrigerator.
Preheat oven to 350° F.
Measure out approximately 1 oz. of dough. Form a ball and slightly flatten.
Raise oven rack one level above the middle and bake on non-stick baking pans.
Bake for approximately 8 – 10 minutes.
Cool on pans for two minutes before removing.