The biggest cooking day of the year is almost here! And now that I picked up our turkey this morning (gotta start the dry brine tonight!) and I've made this Corn Bread, Sausage and Pecan Dressing to share with you, I feel as though the festivities are already well underway.
I've been massaging my Thanksgiving menu for a few months now – I think I've got it to where it's going to be this year. Drum roll please…
Turkey: I'm dry brining à la Los Angeles Times for the 3rd year in a row. It gives incredibly flavorful turkey, with crispy skin. Not a lot more I can ask for.
Mashed Potatoes: Again, I'm sticking with what has worked for the past several years – the Mashed Potatoes with Crispy Shallots from Food & Wine. I picked up a potato ricer last year and fell in love with the fluffy results.
Cranberry Sauce: I loved the Gingered Orange Cranberry Sauce last year so much that it earned a spot on this year's menu, barely edging out my tried-and-true favorite classic version.
Green Bean Casserole: I'll always love the classic version, but this year I'm anxious to try out a from-scratch version from my friend Jane's blog, This Week for Dinner.
Stuffing: That will be the aforementioned Corn Bread, Sausage and Pecan Dressing I'm sharing today. Maybe it's the golden color, but corn bread dressings have always looked so incredibly savory and satisfying to me. You could add dried cranberries or apples to this recipe to give it a sweet element, but I think it's just perfect as is. Read on for the recipe below!
Bread: I have always served rolls for Thanksgiving (last year I made these Classic Dinner Rolls), but this year I was a bit dazzled by the idea of popovers in Martha Stewart Living. She suggests a few different variations in the article – I'm going to go with the chive ones!
Pie: Until this year, I've always said it wouldn't be Thanksgiving without good old-fashioned pumpkin pie. However, my dear sweet almost-4 year old has requested Banana Cream Pie. He's never tried it before, but it sounds amazing to him (as well as to his father and sister). So that's what we're going with this year, and I think the recipe from KCRW will do the trick.
Now that I've written all that out, I'm really excited for Thursday! How about you – will you be sticking to your traditional dishes this year, or will you branch out to try something new? I'd love to hear!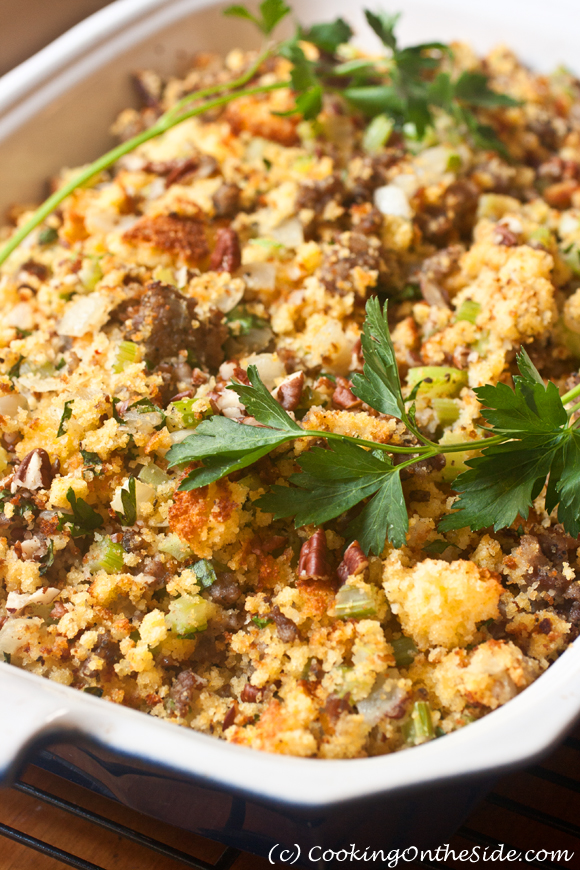 Corn Bread, Sausage and Pecan Dressing
From the Sausage Cornbread Stuffing recipe on the Jimmy Dean website
Prep time: 10 minutes | Cook time: 1 hour | Total time: 1 hour 10 minutes
Yield: 8 servings
INGREDIENTS:
1 pound

regular or sage bulk pork sausage

2 cups

chopped celery

1 cup

finely chopped onion

4 cups

coarsely crumbled cornbread, toasted*

1/4 cup

chopped fresh parsley

1 teaspoon

poultry seasoning

1 cup

chicken broth

1

egg, lightly beaten

1/2 cup

chopped pecans (optional)
DIRECTIONS:
Preheat oven to 325°F. Cook sausage, celery and onion in large skillet over MEDIUM-HIGH heat 8-10 minutes or until sausage is thoroughly cooked, stirring frequently; drain. Spoon into large bowl.
Add cornbread, parsley and seasoning; mix lightly. Add broth and egg; mix just until blended. Stir in pecans, if desired.
Spoon into lightly greased 2-quart casserole or soufflé dish; cover.
Bake 45 minutes or until thoroughly heated, uncovering after 35 minutes.
* For the 4 cups crumbled cornbread needed to prepare this recipe, bake 1 cornbread recipe (or 1 pkg. (8.5 ounces) corn muffin mix according to the package directions for the pan of cornbread). Cool, then coarsely crumble. To toast the crumbled cornbread, preheat oven to 400°F. Spread the cornbread onto bottom of large shallow baking pan. Bake 10 minutes or until lightly browned, stirring after 5 minutes.