November is here! And that means holiday cooking and baking season has officially begun on Cooking On the Side. From Libby's Pumpkin Pie (today's recipe) to French's Green Bean Casserole, many favorite holiday recipes originated from food packaging – which makes them perfect topics for this blog! So for the next few weeks I'll be preparing familiar, traditional Thanksgiving recipes "from the side".
For me, it's just not Thanksgiving without pumpkin pie…
I'd say that Libby's pumpkin pie is my favorite recipe out there – but there's a distinct possibility that it might be the only pumpkin pie I've ever eaten. It's really a case of "if it ain't broke…" The creamy, spiced custard filling – the most important element of the pie – is always just the right smooth, velvety texture. This year I decided to add some maple whipped cream on top, and now I'm wondering whether I might love the cream even more than the pie! It's a tough call.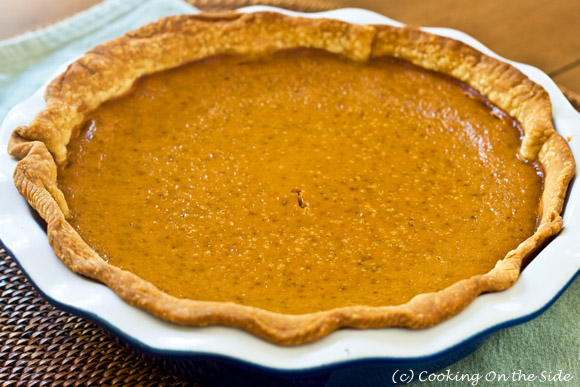 Classic Pumpkin Pie with Maple Cream
From the Libby's Famous Pumpkin Pie recipe on the back of the Libby's 100% Pure Pumpkin can
Serves 8
INGREDIENTS:
3/4 cup granulated sugar
1 teaspoon ground cinnamon
1/2 teaspoon salt
1/2 teaspoon ground ginger
1/4 teaspoon ground cloves
2 large eggs
1 can (15 oz.) pumpkin puree
1 can (12 fl. oz.) evaporated milk
1 unbaked 9-inch (4-cup volume) deep-dish pie shell
1 cup heavy whipping cream
1/4 cup maple syrup
DIRECTIONS:
Mix sugar, cinnamon, salt, ginger and cloves in small bowl. Beat eggs in large bowl. Stir in pumpkin and sugar-spice mixture. Gradually stir in evaporated milk.
Pour into pie shell.
Bake in preheated 425° F oven for 15 minutes. Reduce temperature to 350° F; bake for 40 to 50 minutes or until knife inserted near center comes out clean. Cool on wire rack for 2 hours. Serve immediately with maple cream (see below) or refrigerate.
For maple cream: In a medium bowl, whip cream with a stand mixer or hand mixer on high speed for about 1 minute. Gradually add maple syrup and continue to whip until soft peaks form.