Looking for fun, festive (and edible!) place cards to set your holiday table? Allow me to suggest Christmas Cookie Place Cards!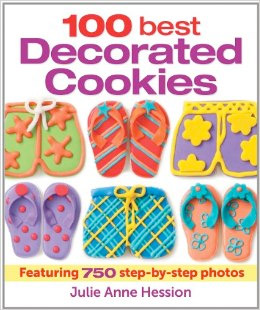 I found this terrific idea — and so many more — in my friend Julie Hession's new cookbook, 100 Best Decorated Cookies. All you need is a cookie shape that offers space to include a name. I also made some with a stocking cookie cutter, but these Santa hats offered more "name real estate". Even a simple, iced circle with a name piped onto it would be a special addition to the table.

As you can see, I didn't stop with just the cookie place cards. I've really gotten into cookie decorating this year, thanks to Julie's book! I've dabbled in it a little in the past, but I was just kind of winging it. Now that I've learned some better techniques, I'm kind of feeling a little unstoppable. 🙂

These soccer balls were the first design I tried from Julie's book, for my daughter's end-of-season team party — I was still figuring things out with the royal icing consistency, but I was proud of the results anyway (and the soccer teammates enjoyed them!).
There are a slew of sugar cookie and royal icing recipes out there (I've got one on the blog), but if you'd really like to step up your decorating game, I highly suggest checking out 100 Best Decorated Cookies and also these resources from my favorite cookie bloggers:
MERRY CHRISTMAS TO YOU!