Believe it or not, I was a kid who actually liked Brussels sprouts. I really didn't mind the leafy green mini-cabbage-looking-things at all. They were kind of neat and different.
These days, I kind of love them.
A whole lot of flavor can fill those leafy layers…such as the ginger, honey and bacon that simmer into these Glazed Brussels Sprouts to make them sweet, smoky and fabulous. The recipe comes from McCormick – I'm one of seven bloggers who are teaming up with the company this holiday season to celebrate what they're calling the "Seasonal Seven Flavors". These Seven – cinnamon, nutmeg, poultry seasoning, ginger, sage, vanilla, and peppermint – represent the flavors we most often think of as the taste of the holidays.
If the seven of us participating bloggers were a popular British girl band from the '90s you could call me Ginger Spice! I'm the one who gets to share recipes to heat up the holidays with ginger in the weeks to come. I'm starting with these Glazed Brussels Sprouts, where ginger adds warm, almost floral notes to this easy side dish. It would be perfect for your Thanksgiving table or any cool autumn evening.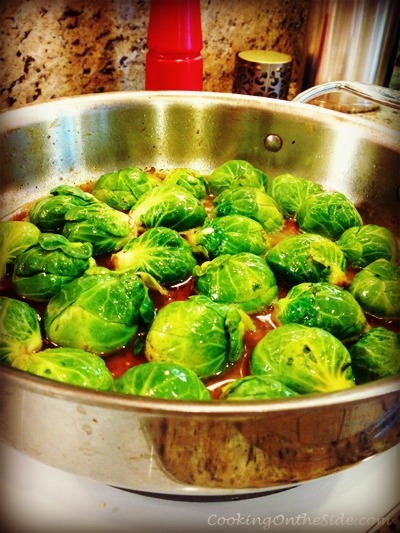 Glazed Brussels Sprouts
From the McCormick website
Prep time: 10 minutes | Cook time: 25 minutes | Total time: 30 minutes
Yield: 4 servings
INGREDIENTS:
3

slices bacon, coarsely chopped

1 container (10 ounces)

Brussels sprouts, trimmed and cut in half lengthwise (2 cups)

1/2 cup

beef broth

2 tablespoons

honey

1/2 teaspoon

McCormick® Ginger, Ground

1/2 teaspoon

grated orange peel
DIRECTIONS:
Cook bacon in large skillet on medium-high heat until crisp. Remove bacon. Drain fat, reserving 1 tablespoon in skillet. Place Brussels sprouts, cut-sides down, in skillet; cook 1 minute.
Mix broth, honey, ginger and orange peel in small bowl until well blended. Add to skillet. Reduce heat to medium. Cook, uncovered, 10 to 15 minutes or until liquid has evaporated and Brussels sprouts are crisp on the outside and tender on the inside. Sprinkle with bacon.
This post was sponsored by McCormick as part of their Seven Seasonal Flavors program. My opinions are – as always – my own.