No matter how much advice I read that says you should bypass the bread basket, especially during the holidays, I just can't. Bread and I have had a longstanding wonderful relationship – one which I've begun to appreciate even more as I become more comfortable baking with yeast.
The most impressive wonderland of a bread basket I've ever encountered was at Joël Robuchon in Las Vegas last year (you can see a photo of it here on In Erika's Kitchen). It's actually a cart – brimming with all kinds of baguettes, bâtards, rolls, you name it – that the servers wheel to your table. You can choose whatever you want, and rest assured Mike and I did our fair share of sampling. As an aside, they also bring around another incredible cart of sweets at dessert time!
Taking the time and effort to bake homemade rolls on special occasions is one way I like to show love to everyone at the table. I served these Classic Dinner Rolls on Thanksgiving last week. They're simple, honest, no-frills rolls that taste best with a little butter.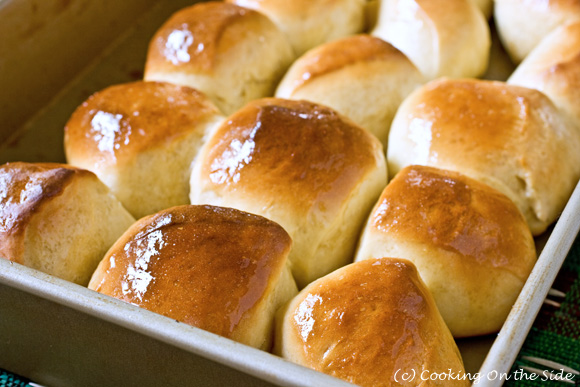 Classic Dinner Rolls
From the White Lily Yeast Rolls recipe on the back of the White Lily Enriched Unbleached Bread Flour package
Prep time: 2 hours 20 minutes (including rise time) | Cook time: 20 minutes | Total time: 2 hours 40 minutes
INGREDIENTS:
2 (3/4 oz) packages

active dry yeast

1/2 cup

warm water (105° to 115°F)

1 1/2 cups

milk

1/2 cup

sugar

2 teaspoons

salt

1/4 cup

vegetable shortening

1

large egg, lightly beaten

6 cups

bread flour, divided

1/2 cup

butter, melted
DIRECTIONS:
Dissolve the yeast in the warm water in a large bowl. Combine the milk, sugar, salt and shortening in a medium saucepan. Heat to 115°F stirring until the shortening is melted. Add to the yeast mixture. Stir in the egg. Beat in 3 cups of flour until fairly smooth. Stir in enough of the remaining flour to make a very soft dough.
Turn onto a lightly floured surface. Knead 5 minutes, adding more flour if needed. Shape into a ball. Coat a large bowl generously with no-stick cooking spray. Place the dough in the bowl, turning to coat the surface. Cover with a towel. Let rise in a warm place 1 1/2 hours or until doubled in size.
Coat two 13 x 9-inch pans with no-stick cooking spray. Divide the dough into 30 equal pieces. Shape into balls. Place 15 balls in each prepared pan. Cover with a towel. Let rise in a warm place about 20 minutes or until doubled in size.
Heat the oven to 400°F. Bake 15 to 20 minutes or until golden brown. Brush the tops with butter. Remove from pan. Serve warm.