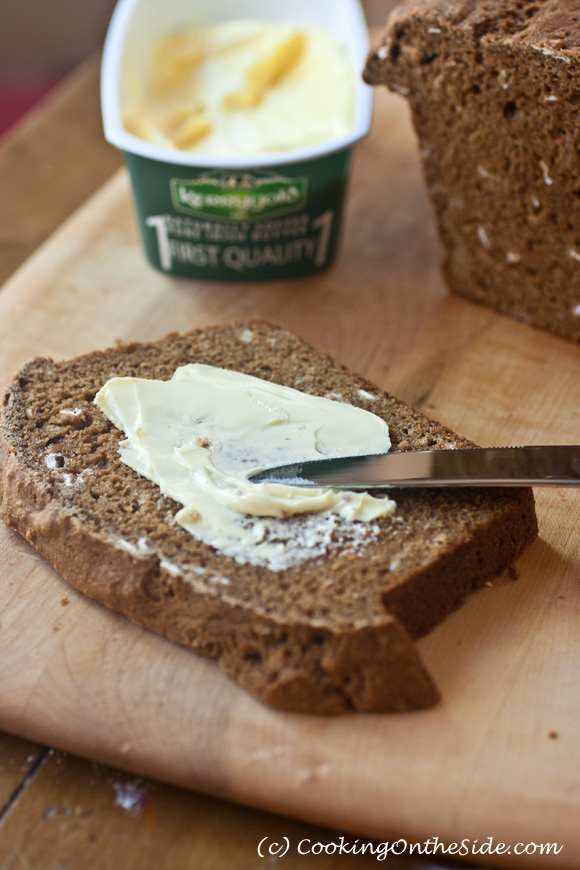 With St. Patrick's Day coming up, my eyes turned toward the random bottle of Guinness that's been sitting in my fridge for…well, I'm not even sure how long it's been there at this point. Long enough that I began contemplating ways I could cook with it, rather than drink it!
I found a terrific recipe for Guinness Bread on the Guinness website. It made a huge, sandwich-quality loaf of dark, lightly sweet bread that was far less cakey than other beer breads I've made. Warm brown bread with a good smear of soft Irish butter…definitely one of life's simple pleasures.
As with most beer breads, this one was very easy to pull together except that, since the recipe came from a European website, it took quite a bit of conversion and Google searching for me to translate it into "American". For example, I had to confirm that "bread soda" was the same thing as "baking soda" and that molasses would be a suitable substitute for "black treacle". I have a kitchen scale and measuring cups with metric markers so following all the grams and milliliters wasn't a problem (it actually made things easy), but I went ahead and converted it all to cups for my American friends who don't own a scale. Lastly, the oven temperature…170°C doesn't translate neatly to a standard Fahrenheit temperature (it's between 325°F and 350°F) so I erred on the side of the lower one, and extended the baking time.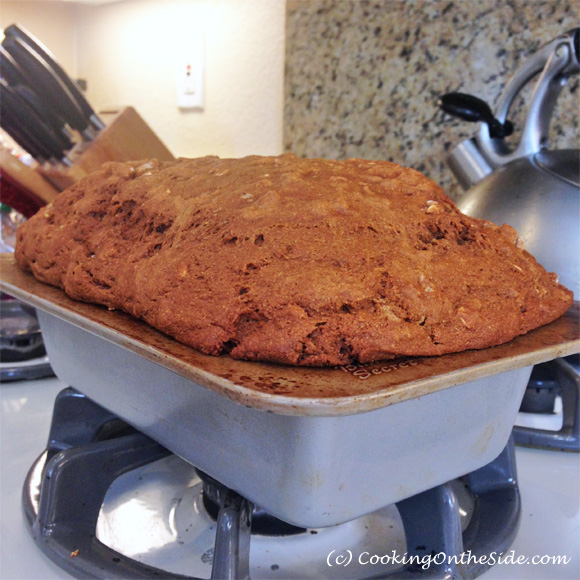 Like I said, the recipe makes a huge loaf. It didn't say which size loaf pan to use — I'm definitely glad I went with the larger 9″ x 5″ (vs 8″ x 4″) because the batter filled the pan and it domed up substantially during baking. Do yourself a big favor and be sure to do the toothpick check to be sure it's completely done inside before taking it out of the oven!
You're in luck — I've done all the translations for you in the recipe below. In addition, Guinness has a quick video for this recipe, which I found helpful (I never would have known to mix the butter and dry ingredients with my fingers, like a pie crust). Enjoy this amazing bread!
Guinness Bread
Adapted from the Guinness Bread recipe on the Guinness website.
Prep time: 15 minutes | Cook time: 50 minutes | Total time: 1 hour 5 minutes
Yield: 1 loaf
INGREDIENTS:
5 cups (600g)

whole wheat flour

1 1/4 cups (150g)

all-purpose flour

3/4 cup (75g)

rolled oats

2 1/2 teaspoons

baking soda

1 teaspoon

salt

2 tablespoons plus 2 teaspoons

brown sugar

3 tablespoons (40g)

unsalted butter, at room temperature

2 cups (480ml)

milk

3/4 cup (200ml)

molasses

1 cup

Guinness
DIRECTIONS:
Heat the oven to 325°F. Grease a 9″ x 5″ loaf pan.
In a large bowl, use your fingers to mix the butter with all the dry ingredients until the dough develops the consistency of breadcrumbs. Add the milk, molasses and beer and mix, either with your fingers or a wooden spoon, until you have a wet dough.
Pour the dough into the greased loaf pan. Bake for 45-50 minutes, or until a toothpick inserted in the center comes out clean.