I previously said that it wouldn't be Thanksgiving at my house without classic pumpkin pie. Well, I guess I'd also add Green Bean Casserole to that list. To be fair, is it the best vegetable side dish I've ever had? No, not really. But it's loaded with tradition and nostalgia – and on Thanksgiving, that counts for a whole lot.
In recent years, I've toyed with the idea of making a fresher version of this old standby – use fresh green beans instead of frozen, make my own creamy mushroom base, fry some shallots. I have no doubts that such a dish would be delicious – possibly even preferred. But that familiar salty bite of the store-bought French's onions wouldn't be present, sprinkled throughout each forkful. Also missing would be the Campbell's cream of mushroom soup flavor that has come to signify "a yummy casserole" to me since a really young age. No, I've got 364 other days of the year to get fancy with my food. On Thanksgiving, it's all about comfort and tradition.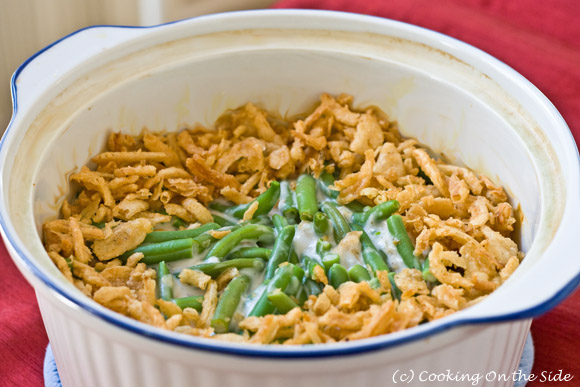 Green Bean Casserole
From the French's French Fried Onions package
Serves 6
INGREDIENTS:
1 (10-3/4 oz.) can cream of mushroom soup
3/4 cup milk
1/8 teaspoon black pepper
1 1/3 cups french fried onions
2 (14 1/2 oz.) cans green beans, drained OR 2 (9 oz.) packages frozen cut green beans, thawed
DIRECTIONS:
Preheat the oven to 350°F.
Mix soup and milk, then add pepper, green beans and 2/3 cup onions in a 1-1/2 quart casserole.
Bake for 30 minutes or until hot. Stir.
Top with remaining onions. Bake 5 minutes.