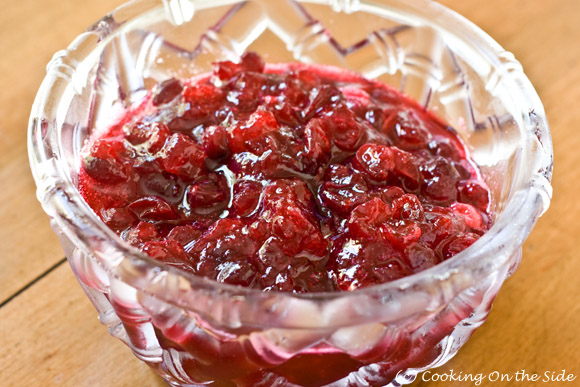 Cranberries, sugar and water – that's all you need to make traditional cranberry sauce. Yet while it may be the simplest dish on your Thanksgiving table, it's definitely no wallflower. Just look at that gorgeous color! And if that wasn't enough to capture our attention, the tart berries seize our tastebuds and make our mouths water for the rest of the holiday feast.
When it comes to cranberry sauce, I'm a whole-berry girl all the way. I like to see the fruit, and the skins add such great texture. But if the jellied variety is more to your preference I've included Ocean Spray's directions for that version below as well.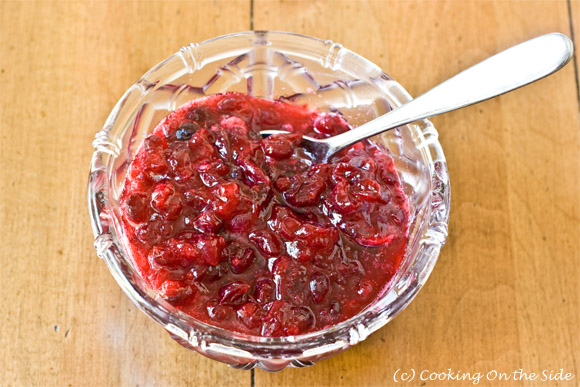 Cranberry Sauce
From the back of a bag of Ocean Spray Fresh Premium Cranberries
Makes 2 1/4 cups
INGREDIENTS:
1 cup water
1 cup sugar
1 12-ounce package fresh or frozen cranberries
DIRECTIONS:
Bring water and sugar to a boil in a medium saucepan. Add cranberries and return to a boil. Reduce heat and boil gently for 10 minutes, stirring occasionally. Pour sauce into a bowl, cover and cool completely at room temperature. Refrigerate until serving time.
If you preferred jellied cranberry sauce:
Prepare as directed above. Before cooling, place a wire mesh strainer over a mixing bowl. Pour contents of saucepan into strainer. Mash cranberries with the back of a spoon, frequently scraping the outside of the strainer, until no pulp is left. Stir contents of bowl. Pour into serving container. Cover and cool completely at room temperature. Refrigerate until serving time. Makes 1 cup.
See the Recipe Index for all the recipes on Cooking On the Side.