Today's post is sponsored by the new Windows Phone 7.
It comes as a surprise to many of my friends that I cook as often as I do. Even more than before I had my second baby. Anyone with little folks at home can tell you that you're not allowed more than about 20 minutes to prepare anything in the kitchen…and that's with continuous distribution of Cheerios and puffs. Out of necessity, I have learned how to get a lot more done with a lot less time.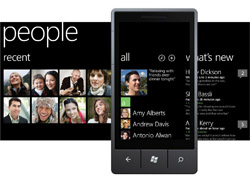 In conjunction with the launch of the Windows Phone 7, the folks at Microsoft are coordinating with me and 57 other food and lifestyle bloggers (see the official rules for a list of all the participating bloggers) to give away their new smartphones to our readers and challenged us to write a post on the theme of "doing more with less". Before I get to how I used this classic Cornbread recipe to "do more with less", let me give you the details on how to enter the giveaway.
To enter the Windows Phone 7 giveaway:
Leave a comment on this post, sharing one way you make your life easier in the kitchen (e.g., chopping up vegetables ahead of time, organizing your pantry, enlisting your spouse or kids to help out)
You can enter once per day until the contest ends on Monday, November 29, 2010. (For even more chances to win, I'm giving away another phone on Panini Happy)

One entry on this blog will be selected at random to win a brand-new Windows Phone 7. Please note that the phone will ship within 8-10 weeks.
The official rules can be found here.
* * * * *
Multitasking and synergizing – I don't even consciously do it anymore, it's just how I operate. I've always been pretty efficient with my time but these days I've become a bit of a maximizing machine out of necessity. Sometimes you'll see this manifest itself on my blogs, when I prepare one recipe here on Cooking On the Side and then parlay the leftovers into a tasty sandwich over on Panini Happy. You may recall these examples:
If you go to Panini Happy today you'll see how I turned leftovers from cornbread I made for Cooking On the Side into Pulled Pork Cornbread Panini with Caramelized Onions and Pepper Jack.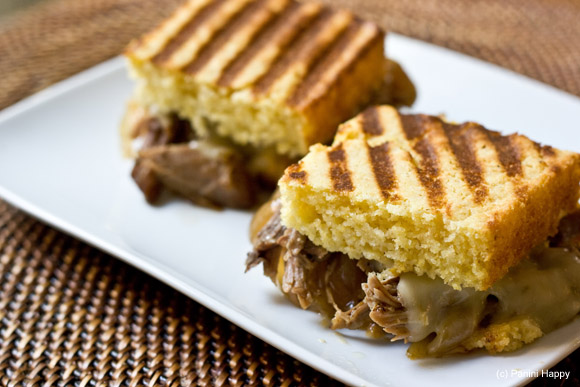 I actually make cornbread quite often, and I always use the recipe from the back of a box of corn meal (the recipe has been on the box for years). It's the quickest bread I know how to make, start to finish in under 30 minutes. Plus, I always have all the ingredients on hand. This one is moist and mildly sweet with a crumbly corn texture. I was inspired by a recent post on Healthy Food for Living to try grilling some panini with the leftovers. Read on for the Cornbread recipe for the cornbread and then hop over to Panini Happy for my panini (and a chance to win another Windows Phone 7!).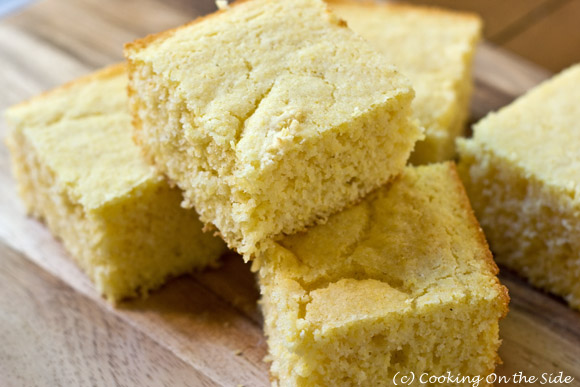 Corn Bread
From the back of the Albers Yellow Corn Meal package
Makes 12 servings
INGREDIENTS:
1 cup corn meal
1 cup all-purpose flour
1/4 cup granulated sugar
1 tablespoon baking powder
1 teaspoon salt
1 cup milk
1/3 cup vegetable oil
1 large egg, lightly beaten
DIRECTIONS:
Preheat oven to 400°F. Grease 8-inch square baking pan.
Combine corn meal, flour, sugar, baking powder and salt in medium bowl. Combine milk, oil and egg in small bowl; mix well. Add milk mixture to flour mixture; stir just until blended. Pour into prepared pan.
Bake for 20 to 25 minutes or until wooden pick inserted in center comes out clean. Serve warm.
NOTE: Recipe may be doubled. Use greased 13 x 9-inch baking pan; bake as above.
FOR MUFFINS: Spoon batter into 10 to 12 greased or paper-lined muffin cups filling 2/3 full. Bake in preheated 400°F oven for 15 minutes.
This giveaway is brought to you by the new Windows Phone 7. Less tech tired. More tech trendy: Learn about Windows Phone online and see it in person at local T-Mobile stores today.