My mom recently mailed me a pasta press attachment for my stand mixer. I'd secretly been hoping it might fall into my hands at some point after she received it as a giveaway from a Martha Stewart Show taping a while back. She determined after about a year of it sitting in the cabinet that it might receive more use at my house. As usual, she was right.
For my first go with the pasta attachment, I thought I'd try a shape that's not too easy to make without a contraption like this – macaroni. All I had to do was mix together the dough, push it down through the extruder and out came continuous tubes of pasta that I had to keep active watch over and cut before they got too long. Picture that classic "I Love Lucy" scene where Lucy and Ethel are overwhelmed by the speed of the chocolates coming down the conveyor belt…that was me!
So all didn't go perfectly…no matter, it at least resembled macaroni so I was happy!
There was a recipe for classic Minestrone Soup inside the recipe booklet that came with the attachment, with lots of fresh vegetables and white beans as well as macaroni. I'm not usually a big vegetable soup person but this one ate almost like a pasta dish – a hearty, flavorful one at that. If I hadn't made my own pasta, the whole thing would have easily been done in under 30 minutes (even with my super-slow chopping skills!). I adapted the recipe below for store-bought macaroni, but if you ever have the opportunity to extrude your own pasta I promise it's a fun time!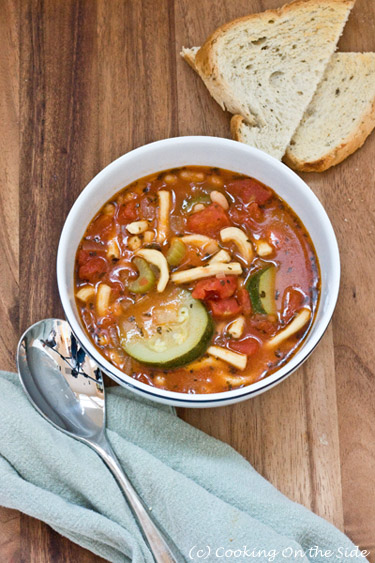 Minestrone Soup
Adapted from the Classic Minestrone recipe in the KitchenAid Pasta Press instructions and recipes booklet
Makes 10 servings
INGREDIENTS:
3 tablespoons olive oil
2 stalks celery, trimmed and cut into 1/4″ slices
3 carrots, peeled and cut into 1/4″ slices
2 small zucchini, trimmed and cut into 1/4″ slices
1 small onion, chopped
1 shallot, finely chopped
1 package (32 oz) chicken broth
2 cans (14.5 oz each) petite diced tomatoes, with juice
1 teaspoon dried oregano
1 teaspoon dried basil
1/4 teaspoon pepper
10-12 ounces macaroni, uncooked
1 can (15.8 oz) white beans, rinsed and drained
DIRECTIONS:
Heat olive oil in a large pot over medium high heat. Add celery, carrots, zucchini, onion and shallot. Cook and stir for 4 to 5 minutes, or until vegetables are softened.
Add chicken broth, tomatoes, oregano, basil and pepper. Increase heat to high and bring mixture to a boil. Add pasta and continue to boil until pasta has reached al dente stage, about 8 to 10 minutes. Reduce heat to low and stir in beans. Simmer an additional 5 minutes or until beans are heated through. Serve immediately.