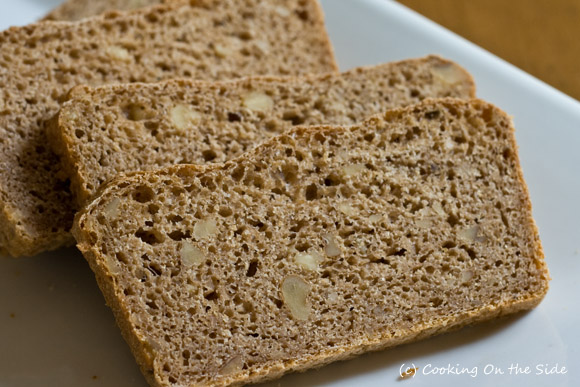 I used to never, ever, ever bake bread. Ever. I didn't have the time, and I didn't like kneading. But most of all I was afraid I'd mess it up. Fortunately, I've recently changed my tune.
It took a little bit of courage on my part to try out the White Whole Wheat Walnut Bread recipe from King Arthur, the first kneaded yeast bread I've made in recent memory, but I really had no need to fear it. The recipe was very straightforward and the end result: a nutty, desirably dense, flavorful loaf.  It was great with a spoonful of strawberry jam, but an absolute treat grilled into Brie & Dried Apricot Panini (on my other blog!).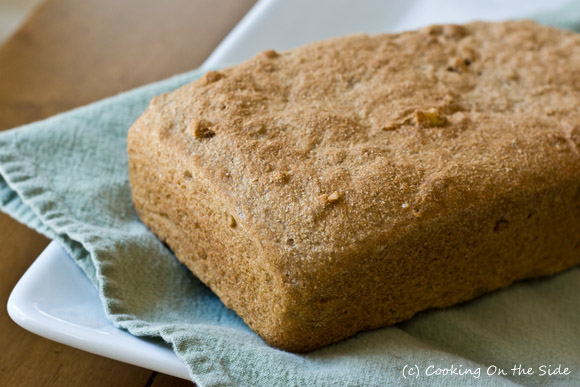 I said this was an easy recipe, but it did kind of assume you know a few basics on bread-baking. Like what "lukewarm" really means, where's a good spot in the kitchen for the dough to rise and how to tell when it's doubled in bulk. I wasn't too sure on those things so I consulted a few outside sources for some guidance on technique and added them in to the recipe below. If you love to bake bread, have at this one – you'll absolutely love the nutty flavor and texture. It's a perfect accompaniment for a cheese plate or with jam or some honey butter. And to you other bread novices out there, here's a great chance to prove to yourself that you can do it!
** I'm submitting this post to this week's YeastSpotting. It's a great site to check out if you're looking for more bread inspiration!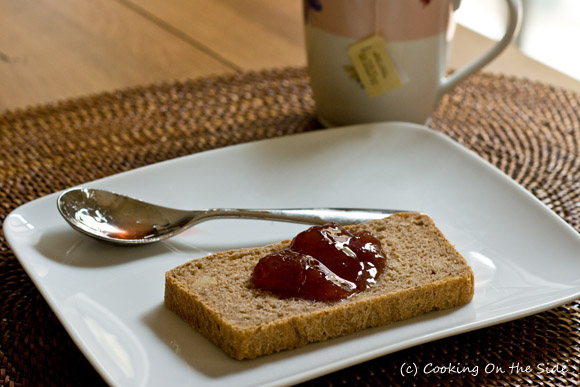 White Whole Wheat Walnut Bread
From the back of the King Arthur White Whole Wheat Flour package (with a few of my notes)

INGREDIENTS:
2 teaspoons instant yeast
1 1/3 cups lukewarm water (105°F to 115°F)
1 tablespoon vegetable oil
2 tablespoons brown sugar
3 cups white whole wheat flour (I'd recommend sticking to King Arthur's, it's a good one)
1 1/4 teaspoons salt
3/4 cup finely chopped walnuts
Mixing: Combine all of the ingredients in a bowl (or the bucket of a bread machine, programmed for the dough cycle; I used my stand mixer with dough hook), and mix and knead until the dough is smooth. Cover the bowl, and allow the dough to rise for 1 to 2 hours (a warm place, free from drafts, is best), until it's doubled in bulk (press your fingertips lightly and quickly into the dough – it an indentation remains it has doubled in bulk).
Shaping: Shape the dough into an 8-inch log, and place it in a lightly greased 8 1/2 x 4 1/2-inch loaf pan. Cover it loosely with plastic wrap, and allow it to rise until it crests about 1 inch over the rim of the pan (this took about another hour and a half for me).
Baking: Remove the plastic wrap, and bake the bread in a preheated 350°F oven for 35 to 40 minutes, until it's golden brown. An instant-read thermometer inserted into the center will register 190°F. Remove it from the oven, and turn it out of the pan to cool on a rack.