Rich, golden spinach-bacon macaroni and cheese is kind of like having a little angel and a little devil on each shoulder. It's decadent for sure, but the spinach relieves just a touch of the guilt.
This was a rather simple recipe, from the back of a pouch of Kraft cheddar cheese, but the flavors were anything but basic. There's no added seasoning whatsoever to this dish – all of the rich flavor comes from the ingredients themselves. The roux for the cheese sauce starts from the leftover bacon drippings, distributing a gentle bacony flavor throughout the pasta. The cheddar is both sharp and buttery and the parmesan is salty and a little nutty, so the combination is pretty robust and complex. And aside from a welcome color contrast, the spinach adds a nice herbiness to the mix.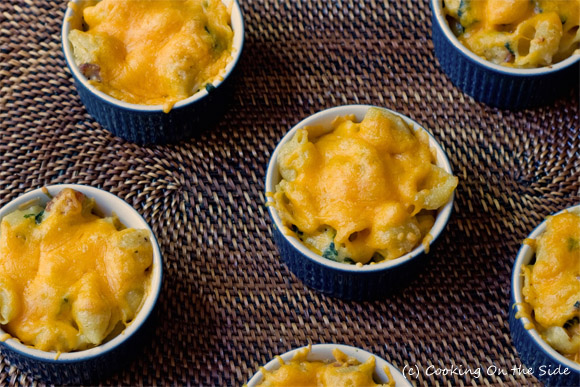 You know what I love most about macaroni and cheese, besides eating it? Freezing it! Back when I was pregnant and looking for meals I could make ahead for after the baby arrived I learned about how well macaroni and cheese holds up in the freezer. Since I decided to prepare this recipe in individual ramekins rather than a casserole dish, as suggested in the original recipe, I wound up with extra pasta. No problem! I just baked a second batch in a regular muffin tin, wrapped them up in some press & seal wrap, stuck them in a freezer bag and popped them in the freezer. They're the perfect toddler-sized portion, for the little gal who I think loves macaroni and cheese the most in our house.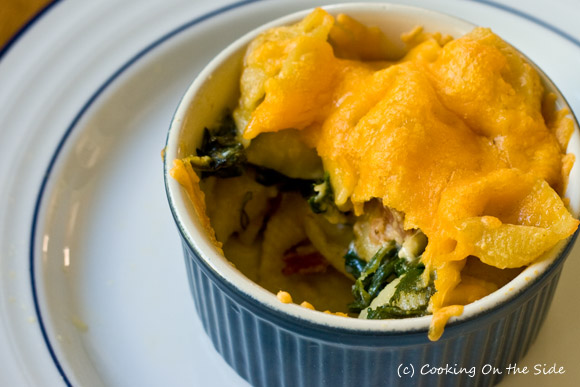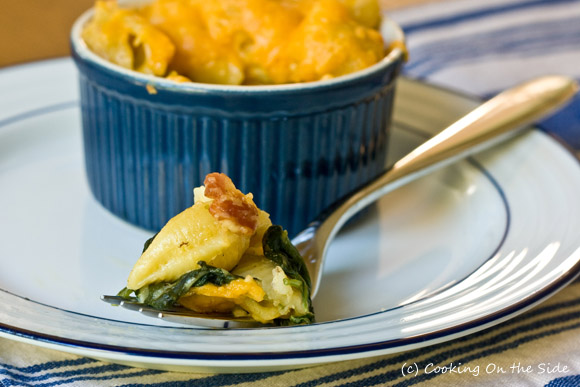 Spinach-Bacon Macaroni & Cheese
Adapted from the recipe on the back of the KRAFT Finely Shredded Sharp Cheddar Cheese package
Serves 6
INGREDIENTS:
1 package (16 oz.) medium shell macaroni, uncooked
1 package (6 oz.) fresh baby spinach leaves
4 slices bacon, chopped
2 tablespoons flour
2 cups milk
2 cups shredded sharp cheddar cheese, divided
1 cup grated parmesan cheese
DIRECTIONS:
Heat the oven to 350°F.
Cook the macaroni as directed on the package, adding spinach for the last minute. Meanwhile, cook bacon in a large saucepan (I used a dutch oven). Remove bacon; save drippings in the pan.
Add flour to the drippings; cook and sir until bubbly. Gradually stir in milk. Bring to a boil, stirring constantly; cook and stir 3 to 5 minutes or until thickened.
Stir in 1 cup of the cheddar and the parmesan; cook and stir until melted. Add bacon and macaroni mixture; mix well.
Spoon into a lightly-greased 1-1/2 qt. casserole dish or 6 ramekins*; top with remaining cheddar. Bake for 20 minutes.
* If you use ramekins, as I did, you will probably have extra. I recommend baking the remainder in muffin tins and freezing the individual portions to enjoy later.