"You'll never guess what Bobby Flay's 'Throwdown' dish is tonight!"
My mother-in-law called me immediately when she saw the Food Network promos for the "Throwdown with Bobby Flay" episode featuring matzo ball soup. I set my DVR to record it right away – I was going to need all the tips and techniques I could get. When she and my father-in-law were out here visiting from the East Coast a week earlier she suggested that I try out her longtime recipe for matzo ball soup. As it turns out, she had cut out the recipe from a box of Horowitz-Margareten Matzoh Meal almost 40 years ago. With Passover approaching, the opportunity to try out this "vintage" on-the-package recipe was irresistible.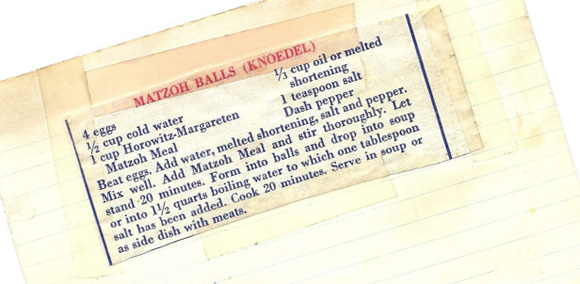 I have to confess, I was initially a bit intimidated by matzo balls. You hear all the horror stories of really bad ones – thick, dense, spongy. Even my food blogging friend, Lydia, admitted to having made some her family described as "depth charges". How was I, someone who had only ever eaten matzo ball soup maybe once in her life, going to defy the odds and make light, fluffy, flavorful dumplings? My solution: absorb all the advice I could come by. And it worked!
With the guidance of my in-laws, that "Throwdown" episode and a number of recipes I found online I am incredibly proud to report that I actually made tasty matzo balls that float! Now, I did deviate from the Horowitz-Margareten recipe in three key places to make it happen. First, in place of cold water I used seltzer (or "club soda", as we know it on the west coast) which I heard over and over again was key to fluffy matzo balls. And rather than oil or shortening, I used schmaltz, or rendered chicken fat, which provided wonderfully rich flavor. Lastly, I allowed the matzo mixture to rest in the refrigerator for about 5 hours rather than 20 minutes. Bobby Flay actually let his stand overnight, which I would have done if I'd had the time. I can't say for sure which of these techniques had the greatest impact, but collectively they produced a terrific result.
Come join Soup-a-Palooza at TidyMom and Dine and Dish sponsored by Bush's Beans, Hip Hostess, Pillsbury and Westminster Crackers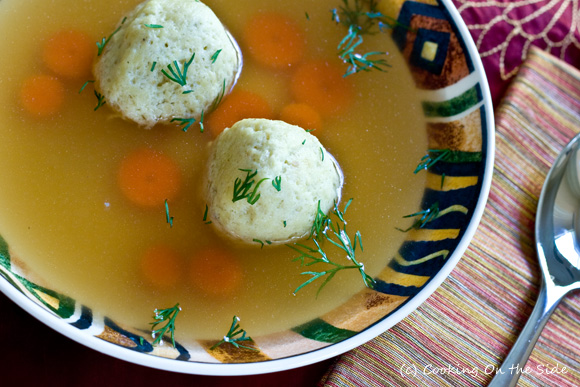 Matzo Ball Soup
Adapted from the Matzo Ball Soup recipe on Smitten Kitchen, the Matzoh Ball Soup recipe on the Food Network and the Matzoh Balls (Knoedel) recipe on the back of the Horowitz-Margareten Matzoh Meal box, circa the late 1960's.
[NOTE: Be sure to read through the entire recipe before you start – there's a bit of preparation involved!]
INGREDIENTS:
Chicken Stock (see recipe below)

Matzo Balls (see recipe below)

1

carrot, thinly sliced

Fresh dill
DIRECTIONS:
About 10 minutes before the matzo balls are ready, add carrots to the chicken stock and bring it to a simmer. Ladle some soup and a couple matzo balls into each bowl and top with a couple snips of dill.
Chicken Stock
INGREDIENTS:
1

(5 or 6 lb.) hen

2

large celery ribs, cut into big chunks

2

large carrots, cut into big chunks

2

parsnips, cut into big chunks

1

onion, quartered (keep the peel on)

1

head garlic, cut horizontally in half

3

sprigs parsley

1

Turkish or 1/2 California bay leaf

Salt and pepper to taste
DIRECTIONS:
Rinse the chicken with water. Bring all ingredients to a simmer in a large stockpot. Skim froth. Simmer, half-covered, for at least 45 minutes, until the chicken seems done. The chicken will come away easily from the bone. Pour soup through strainer to get a clear broth. Let cool. When broth has completely cooled, skim off the fat and save for the matzo balls.
Stock can be chilled 3 for days in the refrigerator or frozen for 1 month.
Matzo Balls
INGREDIENTS:
4

eggs

1/2 cup

seltzer or club soda

1/3 cup

rendered chicken fat (from chicken stock – see above)

1 teaspoon

salt

Dash

pepper

1 cup

matzo meal
DIRECTIONS:
Beat eggs. Add seltzer, chicken fat, salt and pepper. Mix well. Add matzo meal and stir thoroughly. Let stand in the refrigerator at least 20 minutes – I allowed 5 hours.
In a medium saucepan, add 1 tablespoon of salt to 1 1/2 quarts of water and bring to a boil.
With very wet palms of your hands (to prevent sticking), roll small amounts of matzo ball batter (approx. 1″ in diameter) loosely into balls. Drop them into the simmering salt water one at a time [NOTE: This recipe makes a good amount of batter, so depending on the size of your pot you may want to cook the matzo balls in batches, or discard the ones that don't fit. I found that I could comfortably fit about 15 at a time in mine without overcrowding.]. Cover the pot and cook them for 20 minutes.