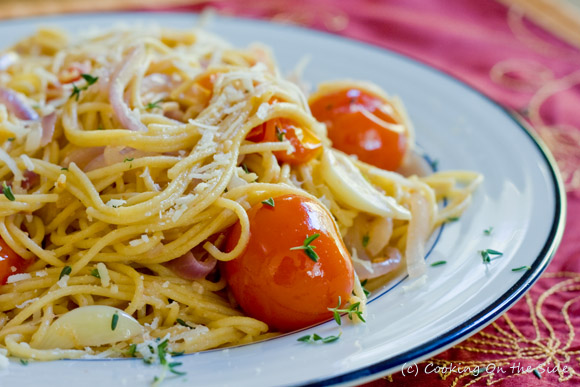 I've seen other pasta dishes that are similar to this one, with thinly sliced caramelized onions intertwined with spaghetti. It's almost as if they're in camouflage, their lithe lankiness assimilating amongst the pasta.  My husband, alas, is no fan of onions so I usually end up choosing recipes where they're not too prominent. But then I thought about that Jessica Seinfeld cookbook where she hides butternut squash in mac & cheese so the kids won't know they're eating vegetables. This recipe sounded so enticing and the onions had a rather stealth presence…perhaps my better half would enjoy the dish so much he wouldn't mind?
Ha ha – it worked!
He cleaned his plate. And because I can never really keep a secret, I did let him know beforehand there were onions but urged him to give it a chance nonetheless. He thought it was delicious, as did I.
The "sauce" in this pasta is more like a savory, thyme-scented broth. In the recipe, the aromatics are sautéed and then you add water and the tomatoes and bring it all to a simmer. I added slivered garlic to the mix as pasta, to me, deserves garlic. For the most part the tomatoes remained intact, bursting just slightly. But, of course, most of them succumbed to the wrath of my silicone tongs once I went to toss the sauce with the pasta and pecorino romano.
Each flavor in this dish complemented the others so well, from the gentle sweetness of the onions and tomatoes to the nuttiness of the pasta to the salty bite of the hard cheese. It's definitely one worth trying – for onion lovers and haters alike.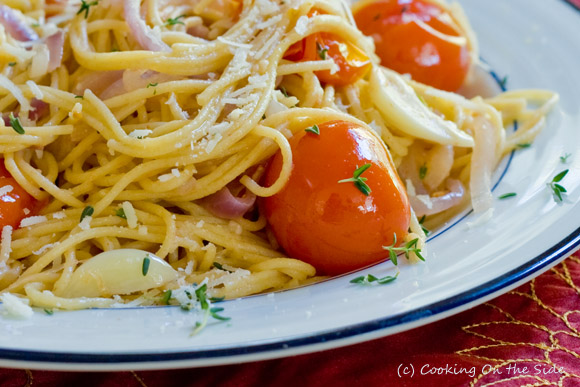 Whole Grain Spaghetti with Cherry Tomatoes & Pecorino Romano
Adapted from the Thin Spaghetti with Cherry Tomatoes and Pecorino Romano Cheese recipe from the Barilla Whole Grain Thin Spaghetti box
INGREDIENTS:
16 oz package whole grain thin spaghetti (it's fine to substitute regular spaghetti)
1 large red onion, thinly sliced
2 1/2 teaspoons fresh thyme
2 cloves garlic, thinly sliced
1/3 cup extra virgin olive oil, divided
1 1/2 pints (3 cups) cherry tomatoes
3/4 cup water
Salt and pepper to taste
1/2 cup pecorino romano cheese, grated
DIRECTIONS:
Cook pasta according to package directions. Meanwhile, sauté the onion and thyme in half of the olive oil over low heat for 7 minutes. Add in garlic and sauté for another 5 minutes.
Add cherry tomatoes and water and simmer for 8 minutes. Season the sauce with salt and pepper.
Drain pasta and toss with the sauce. Add cheese and remaining olive oil and toss again. Garnish with an additional sprinkling of thyme and cheese.