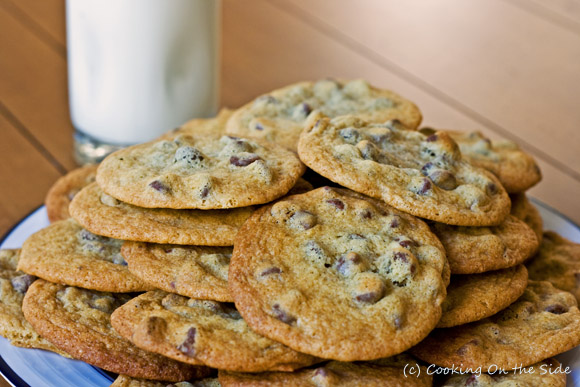 These days we food-types like to jazz up our chocolate chip cookes with bacon, Jacques Torres disks and sea salt. Those are tasty variations, but I don't know anyone who would dare pass up a big plate of the good ol' Toll House original. It's a true American icon. The Nestlé company licensed the recipe from the cookie's inventor, Ruth Wakefield, and has printed it on bags of its Toll House morsels for decades. We don't often look to the side of a food package for culinary greatness, but isn't it interesting that it's where many tried and true recipes actually came from?
Until recently I had all but completely ignored these on-the-package recipes. Why? Rarely does a photo accompany them and with the two inches of space most are allotted the directions tend to be scant. In other words, I couldn't easily tell what I was getting myself into. One day recently I decided that it would be a fun project to take the leap and start "revealing" some of these recipes on a blog. Some, like the Toll House cookies, might be hidden gems. Others might be…well…better left on the package. Either way, on-the-package recipes will finally get the spotlight! I hope you'll follow me on this adventure and subscribe to my updates.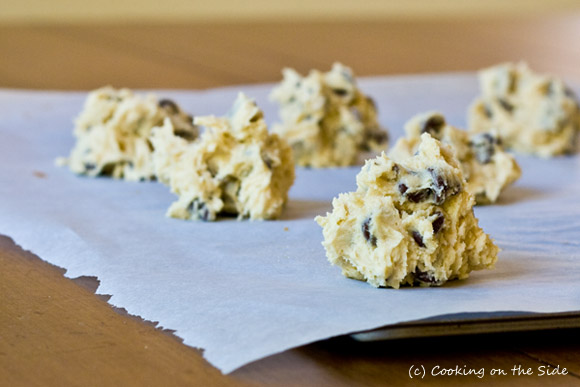 The classic Toll House cookie hardly needs any introduction. Crisp at the edges, gradually transitioning to a chewy bite with the deep flavor of molasses and then finally yielding to a soft buttery center. My mother never made them with nuts so I don't either. Best right out of the oven, preferably with a tall, cold glass of milk.
Compared to its chunkier cousins (such as the behemoths at the Levain Bakery in NYC that I'm so eager to try) the Toll House chipper is relatively slight and unassuming. It neither seeks to impress nor is it a wallflower. It's a buttery, sugary, chocolatey original – still holding its own after all these years.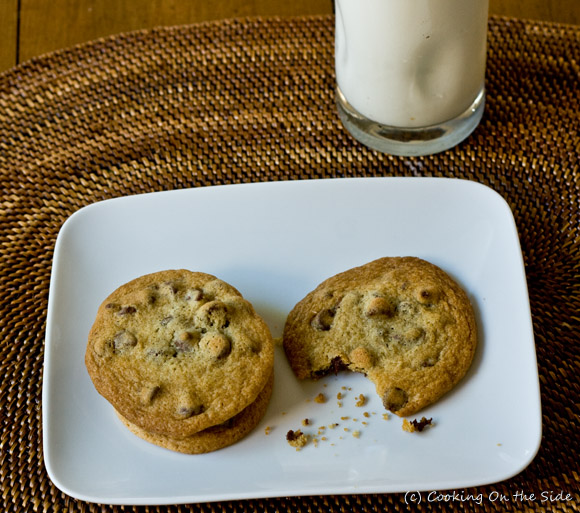 Classic Chocolate Chip Cookies
Adapted from the Original Nestlé® Toll House® Chocolate Chip Cookies recipe
Makes about 3 dozen cookies
INGREDIENTS:
2 1/4 cups all-purpose flour
1 teaspoon baking soda
1 teaspoon salt
1 cup (2 sticks) unsalted butter, softened
3/4 cup granulated sugar
3/4 cup packed brown sugar
1 teaspoon vanilla extract
2 large eggs
2 cups (12 oz. package) semi-sweet chocolate chips
DIRECTIONS:
Preheat the oven to 375° F.
Combine flour, baking soda and salt in a small bowl. Beat butter, granulated sugar and brown sugar in a large mixer bowl until creamy. Mix in vanilla. Add eggs, one at a time, beating well after each addition. Gradually beat in flour mixture. Stir in chocolate chips. Drop cookie dough in 1 1/2″ mounds (I recommend using a small ice cream scoop) onto a parchment-lined baking sheet, leaving about 2″ of space between each.
Bake for 10 to 12 minutes or until golden brown. Cool on baking sheet for 2 minutes; remove to wire racks to cool completely.