A few weeks ago, after dropping off our little kids at preschool, a group of friends and I convened at a long reserved table at a quaint local breakfast spot. The occasion: a baby shower for our friend Chelsea, who is expecting her fourth and fifth!
People often ask me whether we're looking to grow our family beyond the adorable duo we've already got. My usual response is that we're not anticipating any further additions, but I guess I'll never say never. I'm over-the-moon excited for Chelsea and the twin baby girls on the way. She's a fabulous mom (with an equally fabulous parenting blog, Breezy Mama) and she has a terrific, supportive husband. Even though my heart skipped a beat when I peered into her new minivan ("I caved") and saw where all five car seats and boosters would be positioned, there's still that part of me that regards a house full of children as highly appealing. Maybe I'll just be content to visit hers. 🙂
Our waiter at that lovely little breakfast spot where we had the shower recommended the multigrain pancakes. Apparently they had won awards. I went with his suggestion and wow, I didn't realize how tasty they would be. I subsequently came across this multigrain pancakes recipe inside the Silver Palate Oatmeal box (that same one where I found the Maple Cinnamon Granola recipe, in fact). The name makes them sound like they'd be heavy or dense, but they're actually really fluffy with lots of great texture from the grains and pecans. Enjoy!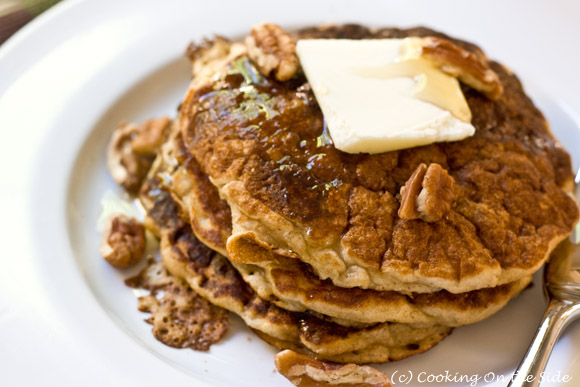 Multigrain Pancakes
From inside The Silver Palate Thick & Rough Oatmeal package
Makes 16 pancakes
INGREDIENTS:
3/4 cup whole wheat flour
1/2 cup unbleached all-purpose flour
1/2 cup oatmeal
1/4 cup yellow corn meal
2 teaspoons baking powder
1 teaspoon baking soda
1/2 teaspoon salt or to taste
4 tablespoons canola oil
2 eggs
2 cups buttermilk
4 tablespoons honey
1/2 cup chopped pecans
DIRECTIONS:
Combine whole wheat and all-purpose flours, oatmeal, corn meal, baking powder, baking soda and salt in a food processor and process only to blend. Blend oil, eggs, buttermilk and honey together in a large bowl. Add flour mixture and stir just until blended. Fold in pecans.
Heat a griddle or large skillet over medium-high heat. Brush with oil. Ladle a 1/4 cup-measure of batter onto griddle for each 4-inch pancake. Cook until golden brown on the bottom and small bubbles form on surface, about 1 minute. Turn and cook second side until brown. Adjust heat to keep pancakes from burning before cooking through.