I don't consider myself to be a picky eater in the least…except when it comes to breakfast. And particularly when it comes to breakfast cereals.
The bottom line: I just can't handle soggy cereal.
That means anything with flakes or puffs is automatically out. The presence of the words "crunch" or "clusters" in the name is often promising. But they usually try to sneak some flakes in there too so, again, it just doesn't work for me. Granola – with its robust crunchiness that generally stands up to milk admirably – is really the only breakfast cereal I enjoy eating. As of this past weekend, I now enjoy making it on my own as well.
This Maple Cinnamon Granola, from the back of The Silver Palate Oatmeal package, is positively snackable. When I'm not topping my Greek yogurt with it for breakfast, I've been stashing an airtight jar of it right next to the leftover Halloween candy. I dare say the granola is winning out over the M&Ms. It's the cup of maple syrup that makes it so sweet and crunchy and irresistible. Suffice it to say that toasting oats and nuts with maple syrup, brown sugar and cinnamon resulted in ridiculously amazing autumn-like aromas in my kitchen.
Oh yes, this is one breakfast cereal I can embrace!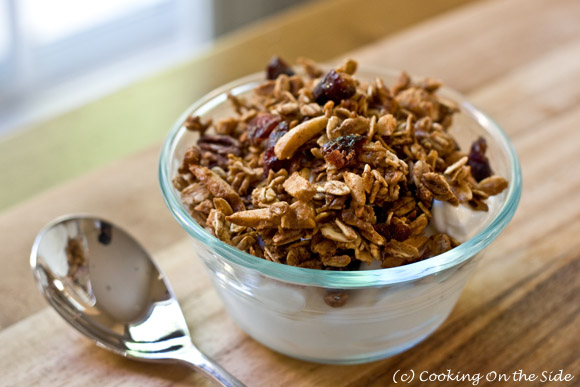 Maple Cinnamon Granola
From the Outrageous Granola Recipe on the back of The Silver Palate Thick & Rough Oatmeal package
INGREDIENTS:
3 cups oatmeal (uncooked)
1 cup chopped almonds, pecans or any combination of your favorite nuts
1 cup, or any combination, of dried fruit (cranberries, golden raisins, apricots, dates, cherries, blueberries)
1 tablespoon vanilla
1 tablespoon cinnamon
1/2 teaspoon salt
1/3 cup packed brown sugar
1 cup pure maple syrup
DIRECTIONS:
Mix ingredients together in a large bowl. Transfer onto a large baking sheet sprayed with non-stick, butter-flavored spray.
Bake at 325°F for 35-45 minutes (stirring once halfway through cooking time). Allow to cool completely on tray.
Store in airtight jars or containers.