Do you have a "baking buddy"?  Mine is my friend Gillian. Since we both love to bake more than we can (reasonably) consume in our respective households we've developed this fun tradition of exchanging baked goods via our husbands, who work out together at the gym every week. My favorite items that she sends are some amazing banana muffins with pecan halves on top. Those little pecan halves always seem to make the muffins extra special and inviting. So when I saw the recipe for these melt-in-your-mouth Pecan Praline Cookies – complete with pecan halves as toppers – I knew I wanted to make them. And I made sure to send over a dozen to Gillian too.
No eggs, no leavening agents – these cookies owe their rich flavor and light texture largely to good ol' butter and brown sugar, much like a traditional New Orleans praline. With delicately crisp edges and a slightly chewy center, they're the kind of cookies that you want to enjoy with a hot cup of coffee or tea. And do yourself a favor and have someone in mind to share them with before you start baking, as the temptation to overindulge in these cookies is very great!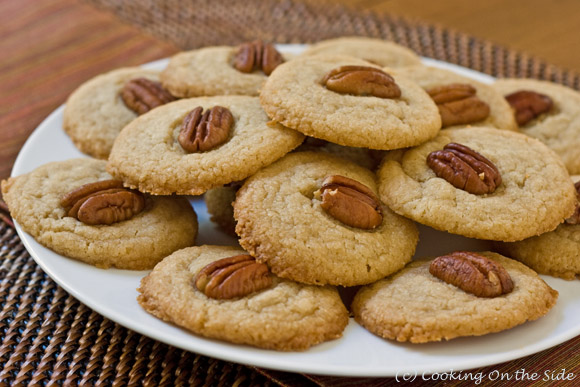 Pecan Praline Cookies
From the Praline Cookies recipe on the back of the Ralph's Pecan Halves package
Makes approx. 3-1/2 dozen
INGREDIENTS:
1 cup butter or margarine, softened
1 cup firmly packed brown sugar
2 teaspoons vanilla extract
2 cups flour
1/4 teaspoon salt
3/4 cup pecan halves
DIRECTIONS:
Preheat oven to 350°F.
Cream together butter or margarine, brown sugar and vanilla. Stir in flour and salt. Mix well. Chill dough 30 minutes.
Form dough into 1-inch diameter round balls. Place on ungreased cookie sheets. Place a pecan half in the center of each ball. Press down lightly. Bake 13-15 minutes or until golden brown.