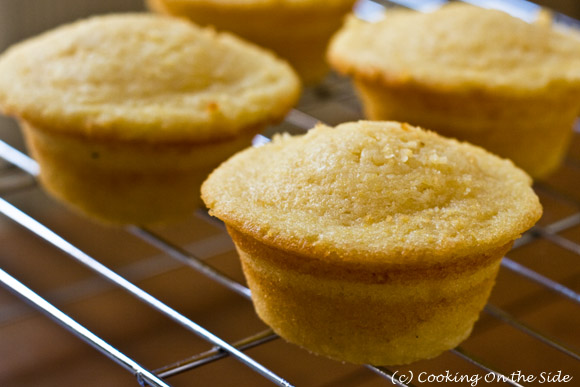 I gave you a little preview of these Cornbread Muffins in my Split Pea Soup with Ham post earlier this week – they're my favorite accompaniment to soup or chili. Everyone likes their cornbread a little bit different. For me, the best kind is on the sweet side and definitely not dry. This recipe, from a box of corn meal, is just that. It comes together so fast that I actually made a second batch while the first was in the oven – I wanted to give a bunch away and freeze some too.
Cornbread muffins always remind me of my seventh grade science project. I chose to do a project on gluten, of all things. I made several different batches, some of which I "stirred just until blended" (as most muffin recipes advise) and others which I beat the heck out of. Of course, the gently stirred batches came out perfectly nice and fluffy while the ones that developed gluten from all the overmixing had big holes and were tough and pointy. Twenty years later I'm still extra-careful with my muffin-stirring…but I think I actually got a B on the project for not displaying all of my test cases, just the prime examples. Which may be why I'm a food blogger today and not a research scientist. 🙂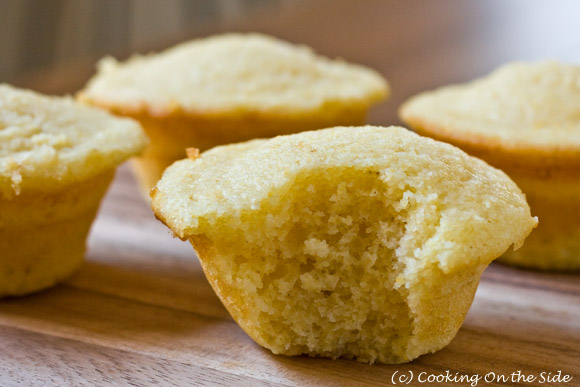 Cornbread Muffins
From the Sweet Corn Muffins recipe on the side of the Albers Yellow Corn Meal box
Makes 18 to 20 muffins
INGREDIENTS:
1 1/2 cups all-purpose flour
2/3 cup granulated sugar
1/2 cup yellow corn meal
1 tablespoon baking powder
1/2 teaspoon salt
1 1/4 cups milk
2 large eggs, lightly beaten
1/3 cup vegetable oil
3 tablespoons butter or margarine, melted
DIRECTIONS:
Preheat oven to 350°F. Grease or paper-line 18 to 20 muffin cups
Combine flour, sugar, corn meal, baking powder and salt in a medium bowl. Combine milk, eggs, vegetable oil and butter in a small bowl; mix well. Add to flour mixture; stir just until blended. Pour into prepared muffin cups filling 2/3 full.
Bake for 18 to 20 minutes or until a wooden pick inserted in the center comes out clean. Cool in pans on wire racks for 5 minutes; remove to wire racks to cool slightly. Serve warm.
For corn bread:
Pour batter into a greased 8-inch square baking pan. Bake for 35 minutes or until a wooden pick inserted in the center comes out clean.