Split pea soup can be a little deceptive. With its bright green color, your eyes convince your mouth that it's in for something really fresh and herby. You go in for the first spoonful and your tastebuds are surprised to be hit with rich, earthy, smoky flavors with a hint of sweetness – the result of having been simmered with smoked ham hocks for upwards of four hours.  Yes, they're surprised – but they sure are happy.
I always thought that split pea soup was puréed – how else does it get such a velvety smooth texture? It turns out that it's a natural process, the peas break down on their own during simmering. In fact, it seems, they start to break down upon contact with any water at all. Do yourself a favor and wait to rinse them until right before it's time to add them to the soup. I rinsed mine at the start of the recipe (I often try to prep all ingredients before I start cooking) – by the time I needed to pour them into the pot they had all stuck together in a 1-lb. pea cake! Fortunately, I was able to chip them all out of the colander and all was well.
Oh, and the corn muffins you see in the photo? I'll be posting those next!
Come join Soup-a-Palooza at TidyMom and Dine and Dish sponsored by Bush's Beans, Hip Hostess, Pillsbury and Westminster Crackers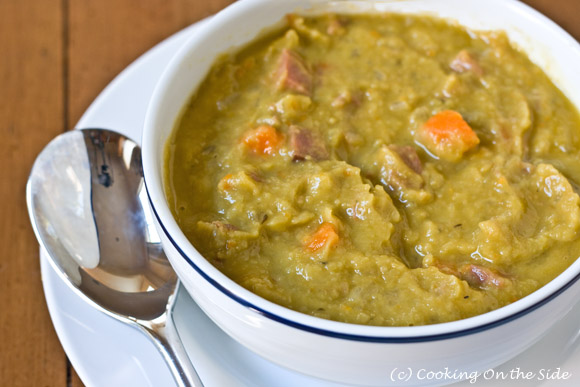 Split Pea Soup with Ham
From the back of the Safeway Green Split Peas package
Makes 6 servings
INGREDIENTS:
2 tablespoons olive oil
2 onions, chopped
2 carrots, peeled and chopped
2 celery stalks, chopped
2 lbs. ham hocks (about 3)
1-1 1/2 lbs. ham steak, fat removed, cut into 1-inch pieces
4 bay leaves
3 quarts (12 cups) water
1 lb. split peas, rinsed*
1 teaspoon dried thyme
DIRECTIONS:
In a large soup pot, heat olive oil over high heat. Sauté onions, carrots and celery until vegetables begin to brown, about 6 minutes. Add ham hocks, chopped ham, bay leaves and water. Bring to a boil, reduce heat and simmer, partially covered, for 2-2 1/2 hours or until ham is very tender. Remove ham hocks and bones. Shred meat into bite-size pieces and return to stock. Discard bones.
Add split peas and thyme. Simmer, uncovered, 1 hour and 20 minutes or until peas dissolve and thicken soup. Remove bay leaves. (Soup may be refrigerated for several days or frozen.)
* Wait to rinse the peas until right before you're ready to add them to the soup pot – otherwise, they will all stick together!