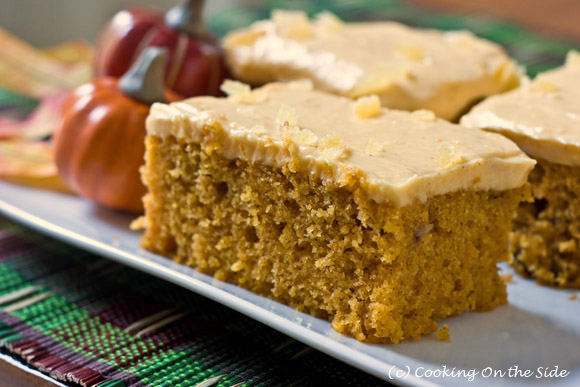 Like a lot of folks, I look forward to making pumpkin dishes this time of year (like this incredibly moist Pumpkin Spice Cake with pumpkin cream cheese frosting, see above)  – but have you heard about the  pumpkin shortage? I've had such a ridiculous time finding pumpkin purée in stores! After numerous canned pumpkin hunting trips over the past two weeks, I can offer these four tips for tracking down this elusive product:
Check the baking aisle (near the canned pie fillings) – I'd assumed it would be with other canned vegetables, but it was not so at my local Vons. If you find it, stock up!
Beware of something called "pumpkin pie mix" – the can looks nearly identical to pumpkin purée but it contains other ingredients besides pumpkin (it's meant for making quick pies); a store clerk was trying to help me and brought me a can of this by mistake – unfortunately, I didn't discover it until I was already home.
Ask a clerk for help – Despite my mishap in the above bullet, it'll probably save you a lot of time to have someone who knows the store aisles by heart find the pumpkin for you – or to let you know if they even have it at all.
Roast your own – I haven't tried this myself yet but if I didn't find the canned stuff it was going to be my next option – Elana from Elana's Pantry offers 10 easy steps to roasting a pumpkin.
Once you've got some pumpkin, you're going to want to make this amazing cake. The recipe comes from a butter company so you know it's moist!
I've decided that butter companies know what they're talking about when it comes to recipes for really moist and flavorful baked goods. After the great results with the Chewy Jumbo Chocolate Chip Cookies I was eager to try out another recipe from a butter package – once I got my hands on some pumpkin, Pumpkin Spice Cake was a go. The cake is beyond moist and the pumpkin and spice flavors are just right. You can see in the photos that the cream cheese frosting has a bit of an orangish hue as well – that's because there's pumpkin mixed in there as well. That frosting is outstanding, finger-licking good as they say. Don't omit the crystallized ginger. I'm not a huge ginger fan myself but I sprinkled it on anyway; it really complements all of the other cake flavors well, plus it makes the surface a little sparkly.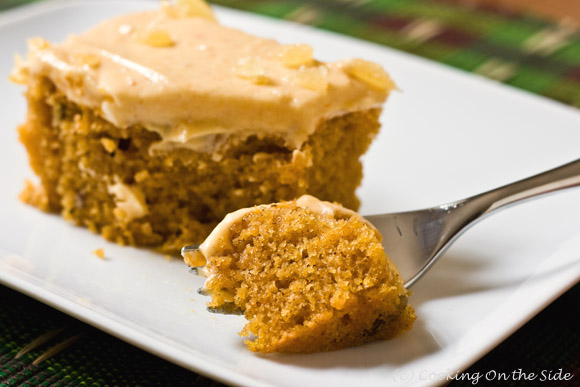 Pumpkin Spice Cake
From inside a package of Challenge Unsalted Butter
Yields 16 (2 1/4″ x 3 1/4″) pieces
INGREDIENTS:
Cake:
1 cup (2 sticks) unsalted butter, softened
1 1/2 cups sugar
1 1/2 teaspoons pumpkin pie spice
4 large eggs
2 cups all-purpose flour
1 1/2 teaspoon baking soda
1 teaspoon salt
1 1/2 cups puréed pumpkin*
1 tablespoon fresh lemon juice **
1/2 cup chopped pecans (optional)
Frosting:
1/4 cup (1/2 stick) unsalted butter, softened
1 teaspoon finely grated lemon zest
1/2 teaspoon pumpkin pie spice
8 ounces cream cheese, softened
2 1/2 cups confectioners sugar
1/4 cup puréed pumpkin
3 tablespoons minced crystallized ginger
DIRECTIONS:
Cake:
Preheat oven to 350°F. Lightly butter a 9 x 13-inch baking pan.
Cream butter, sugar and pumpkin pie spice until light and fluffy. Add eggs, beating well after each addition. Combine flour, baking soda and salt; add to the butter alternating with addition of puréed pumpkin and lemon juice. Stir in pecans.
Spread batter evenly into prepared baking pan and bake 30-35 minutes (or until wooden skewer inserted in center comes out clean). Allow the cake to cool. Spread frosting on cake and garnish with candied ginger.
Frosting:
Cream butter with pumpkin pie spice and lemon zest. Blend in cream cheese. Add confectioners sugar and puréed pumpkin and beat until smooth.
* Recipe uses 1 can (15 oz.) of pureed pumpkin. Reserve 1/4 cup for frosting and use the remaining amount for the cake.
** Finely grate the zest of the lemon before juicing it and reserve zest for frosting.