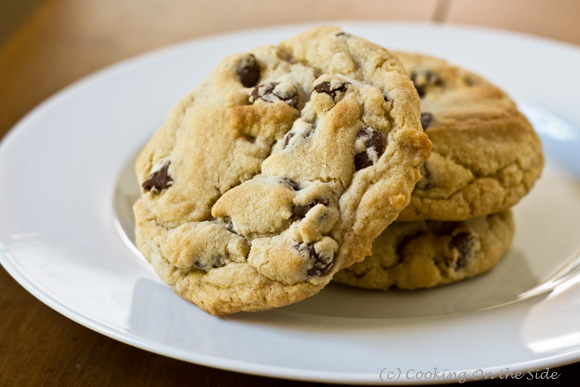 The Toll House chocolate chip cookie recipe may be the most well-known of the on-the-package cookie recipes out there, but it's by no means the only one. It comes as no surprise that all of the chocolate chip companies feature recipes, but have you ever seen what the butter people have come up with?
It wasn't without trepidation that I decided to try out the Chewy Jumbo Chocolate Chip Cookie recipe from inside the Land O Lakes Butter box. I knew I would be in for a butter bonanza – one more stick than most recipes I've seen, in fact. The recipe also called for quite a bit more flour than usual and an ingredient not often seen in drop cookies: baking powder.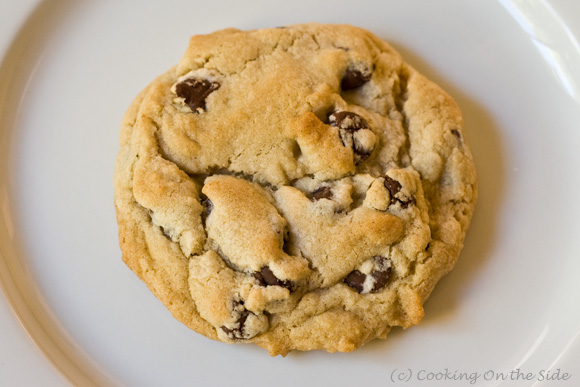 As you can see from the photos, the recipe makes some formidable chocolate chip cookies. I thought they were terrific – soft, chewy, buttery with lightly crisp edges. Even without chilling the dough they baked up nice and thick, without being cake-like (probably the benefit of the baking powder).
One odd aspect about this recipe – it didn't specify salted or unsalted butter. Yes, even the butter people contribute to this frequent source of confusion! Since the recipe came from a box unsalted butter, I assumed unsalted butter was intended…but then there was no salt in the recipe at all. Chocolate chip cookies definitely need some salt, so I added in half a teaspoon.
Enjoy!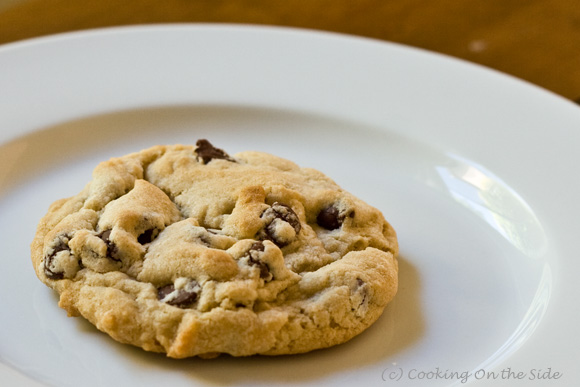 Chewy Jumbo Chocolate Chip Cookies
Adapted from inside the Land O Lakes Butter package
Makes 26 jumbo cookies
INGREDIENTS:
4 1/4 cups all-purpose flour
1 teaspoon baking powder
1 teaspoon baking soda
1/2 teaspoon salt
1 1/2 cups unsalted butter
1 1/4 cups sugar
1 1/4 cups firmly packed brown sugar
2 eggs
1 tablespoon vanilla
1 (12-ounce) package (2 cups) semi-sweet chocolate chunks or chocolate chips
DIRECTIONS:
Heat oven to 375°F.
Combine flour, baking powder and baking soda in a medium bowl. Set aside.
Combine butter, sugar and brown sugar in a large bowl. Beat at medium speed, scraping the bowl often, until creamy. Add eggs and vanilla. Continue beating, scraping bowl often, until well mixed. Reduce speed to low. Beat, gradually adding flour mixture, until well mixed. Stir in chocolate chunks.
Drop dough by 1/4 cupfuls, 2 inches apart, onto ungreased cookie sheets (tip: line the sheets with parchment, if you have some). Bake for 10 to 14 minutes or until light golden brown. (Do not overbake.) Let stand 1 to 2 minutes. Remove from cookie sheets.