It doesn't come much simpler than this: broccoli tossed with olive oil, lemon zest, salt and pepper and roasted until that telltale caramelized crust forms. Nothing fancy – just the fresh taste of the vegetable, with a bit of its natural sweetness brought out to the forefront. Everyone needs an easy vegetable side dish recipe like this in their arsenal to serve alongside roasted chicken, pasta, steak – or even just a plate of it all on its own.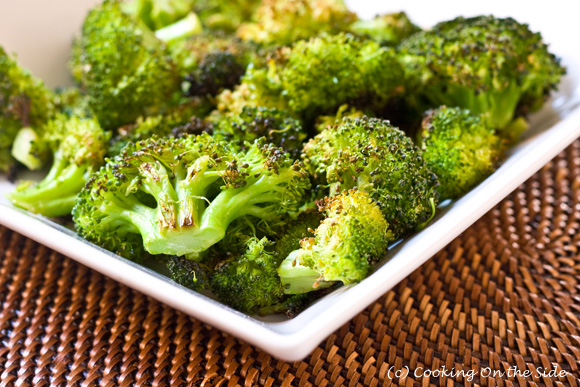 Roasted Broccoli with Lemon
Adapted from the back of the Birds Eye Broccoli Florets package
Serves 4
INGREDIENTS:
2 tablespoons olive oil
1/2 teaspoon salt
1/4 teaspoon pepper
1 teaspoon finely grated lemon zest
1 14 oz. bag fresh broccoli florets
DIRECTIONS:
Preheat oven to 400°F.
In a medium mixing bowl, combine oil, salt, pepper and lemon zest. Whisk until salt has dissolved. Add broccoli florets and stir until thoroughly coated with oil mixture. Pour out onto large rimmed cookie sheet. Bake for 20 to 25 minutes or until broccoli is cooked and edges are slightly browned. Serve immediately.