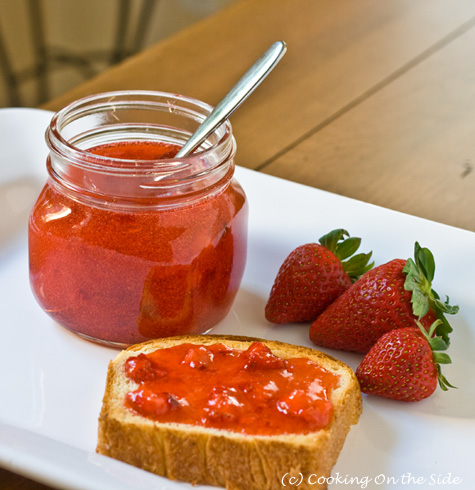 I always thought that if I wanted to make my own homemade jam I'd have to learn the process of canning. It seemed like more time and effort than I wanted to put in – I just wanted the jam. So when it came to my attention that there was a "quick and easy" method to jam-making that didn't involve canning I wasted no time purchasing my fruit.
One distinct difference between the quick method and the traditional cooked approach is the flavor. With the quick method the fruit goes in fresh, rather than being cooked, so the end result tastes much more like really sweet fresh strawberries. I actually found this to be rather appealing – and it tasted absolutely wonderful on rich, buttery brioche toast. Of course, another key difference is how you store it – the quick  jam needs to be kept in the fridge or freezer while cooked jams are shelf-stable up to a year.
If I ever decide to give jars of jam as gifts I'll probably plunk down and learn how to can. But as long as the treat is just for my household, this quick method works great for me.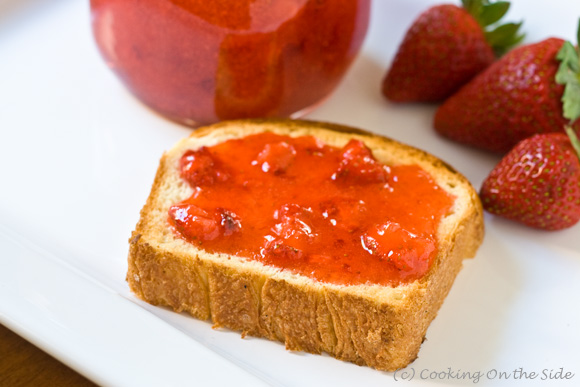 Quick & Easy Strawberry Jam
Adapted from the SURE-JELL Premium Fruit Pectin box
Makes 5 cups
INGREDIENTS:
2 pints fresh strawberries
4 cups sugar
1 box SURE-JELL premium fruit pectin*
3/4 cup water
DIRECTIONS:
Wash and rinse plastic containers with tight fitting lids. Use 1 to 2 cup size containers (I used some BPA-free Ziploc Twist 'n Loc containers from the grocery store – I poured the final product into glass jars just for the photos).
Discard stems and crush strawberries (recommend using a potato masher). Measure exactly 2 cups crushed strawberries into a large bowl. Add sugar and mix well (do not reduce the amount of sugar or use sugar substitutes or jam may not set properly). Let stand 10 minutes; stir occasionally.
Stir pectin and water in a small saucepan (pectin may start out lumpy). Bring to boil on high heat, stirring constantly. Boil 1 minute, stirring occasionally. Remove from heat.
Stir pectin into strawberry mixture. Stir constantly until sugar is completely dissolved and no longer grainy, about 3 minutes. (A few sugar crystals may remain.)
Pour into prepared containers, leaving ½ inch at top for expansion during freezing; cover. Let stand at room temperature 24 hours until set. Refrigerate up to 3 weeks. Otherwise, store in freezer up to a year. Thaw in refrigerator.
*NOTE: While I don't normally specify brands, since there could be variation among different brands of fruit pectin it might be a good idea to use SURE-JELL if you decide to follow this recipe