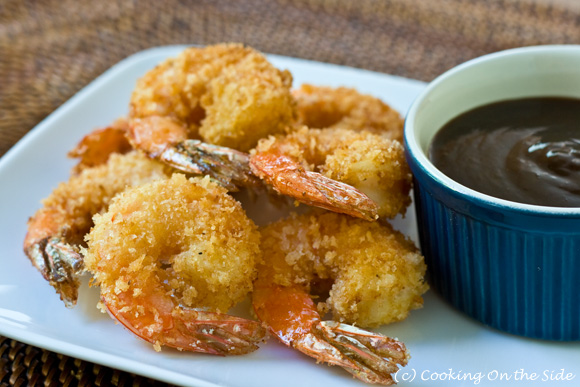 Does the thought of a pile of crispy fried shrimp immediately conjure up images of a chain restaurant all-you-can-eat $9.99 buffet? Yeah, I have a hard time shaking that association too. But don't hold it against these poor little shrimp! There's a reason "endless shrimp" is such a crowd pleasing draw – once you start popping these things in your mouth, it's really hard to stop.
Start to finish, it took me less than 30 minutes (including peeling!) to make a pound of these shrimp. They're incredibly simple – you just bread them in panko and drop them in hot oil for about a minute. What a fabulous crunch! I took Kikkoman's suggestion to dip them in their tonkatsu sauce – its sweetness was a nice complement to the subtle, natural sweet flavor of the shrimp. With the addition of rice and some steamed vegetables, my family's weeknight dinner was served.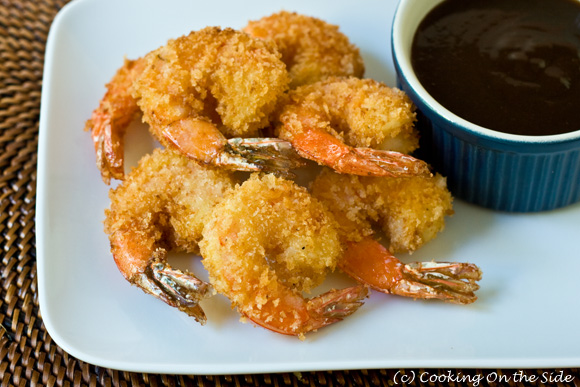 Crispy Fried Shrimp
From the back of the Kikkoman Panko Bread Crumbs box
Serves 3 to 4
INGREDIENTS:
3 large eggs
1/3 cup all-purpose flour
3/4 teaspoon salt
1/2 teaspoon black pepper
1 lb. jumbo raw shrimp, peeled and deveined, leaving tails on
1 1/2 cups panko bread crumbs
Vegetable oil
DIRECTIONS:
Beat eggs in a medium bowl until frothy. Mix flour, salt, and pepper in another medium bowl. Dredge shrimp in flour mixture, shaking off excess. Dip shrimp into eggs and then coat both sides with panko, pressing panko onto shrimp.
Pour enough oil into a large, heavy pot to reach depth of 2 inches and heat oil to 350°F. Working in batches, add shrimp to hot oil and deep-fry until cooked through, about 1 minute.
Remove and drain shrimp on paper towels. Arrange shrimp on platter. If desired, serve with tonkatsu sauce for dipping.
See the Recipe Index for all the recipes on Cooking On the Side.