When I assemble a lasagna – or any layered dish, really – it feels a bit like an art project. Like a pasta-based mosaic, where you thoughtfully arrange all the individual components in such a way that when it all comes together you have something exciting to behold. It's almost therapeutic.
Maybe that's giving the humble lasagna a little more poetry than it warrants, but it's definitely a dish that's as enjoyable to make as it is to eat. This Three-Layer Lasagna is a classic recipe from Barilla, with layers of sweet Italian sausage, and ricotta, mozzarella and Parmesan cheeses. It's a somewhat cheesier version than what I grew up with, but I like it. Next time I might incorporate some chopped spinach in with the cheese for a little color and to get some vegetables in there (that's my mommy side talking). But nonetheless it was a highly satisfying dish – one that freezes well too!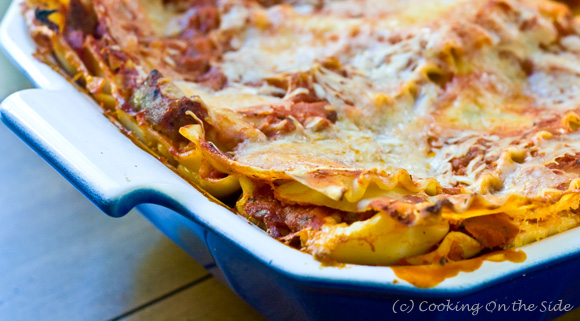 Three-Layer Lasagna
Adapted from the back of the Barilla Lasagne box
INGREDIENTS:
9-12 lasagna noodles (about 1/2 of a 1 lb. box)
1 lb. bulk Italian sausage or ground beef, cooked and drained
2 jars marinara sauce
1 container (15 oz.) ricotta cheese
4 cups (16 oz.) shredded mozzarella cheese
1/2 cup (2 oz.) grated Parmesan cheese
2 eggs, lightly beaten
DIRECTIONS:
Preheat the oven to 375°F.
Cook noodles according to package directions; drain and separate. In a large saucepan, combine cooked meat and 1 1/2 jars of marinara sauce, simmer 5 minutes.
In a large bowl, combine ricotta cheese, 3 1/2 cups mozzarella cheese, Parmesan cheese and eggs. Spray 13″ x 9″ baking dish with cooking spray. Spread 3/4 cup marinara sauce over the bottom of the baking dish. Place 3-4 lasagna noodles over the bottom, slightly overlapping. Spread half of the cheese mixture over the noodles and cover with half of the meat sauce. Repeat layers. Cover last layer with remaining noodles and remaining marinara sauce. Sprinkle with remaining mozzarella cheese.
Cover with foil and bake for 30 minutes. Remove foil and bake for an additional 10 minutes. Let stand 10 minutes before serving.