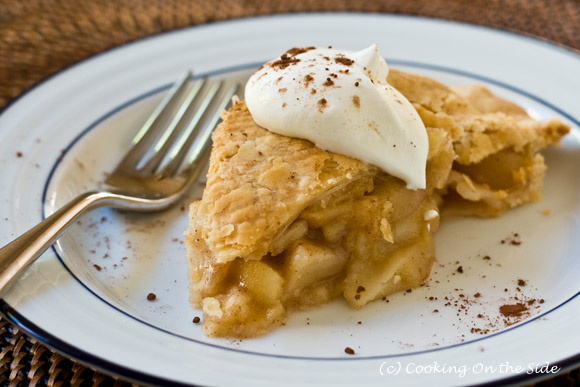 FINALLY, the temperature dipped below 75 degrees in San Diego. I can officially start autumn cooking!
At one time I had great intentions of becoming an avid pie baker. I even took a 3-hour pie-baking class…actually it was more of a pie-eating class, with generous "samples" of each of the six pies the teacher made. It was incredible! As much fun as she seemed to be having in rolling out the perfect flaky crust and weaving the most beautiful lattice, I realized that the eating part was where my true passion lay.
So it was without any guilt or reticence that I leveraged ready-made refrigerated crusts to help make prepping this scrumptious pie easy as…well, you know.
Pillsbury calls this recipe the "Perfect Apple Pie". I'll say this: it was absolutely everything I look for and enjoy in an apple pie. The apples were both sweet and tart (I used Granny Smith on the sound advice from many folks on Facebook and Twitter, as well as Jonagold) and remained firm during baking. It was just the right amount of sugar, cinnamon and nutmeg – just sweet enough and the perfect complement to the apples. To Pillsbury's own credit, their crusts were incredibly easy to work with. The bottom crust held up well under the filling and the top one was as flaky as I'd ever want.
That's a pretty perfect apple pie recipe to me!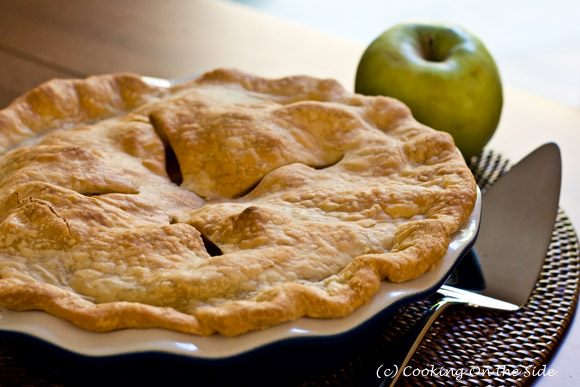 Classic Apple Pie
From the Perfect Apple Pie recipe on the side of the Pillsbury refrigerated pie crusts box
Serves 8
CRUST:
1 box (15 oz) refrigerated pie crusts
FILLING:
6 cups thinly sliced, peeled apples (6 medium – I used a combination of Granny Smith and Jonagold)
3/4 cup sugar
2 tablespoons all-purpose flour
3/4 teaspoon ground cinnamon
1/4 teaspoon salt
1/8 teaspoon ground nutmeg
1 tablespoon lemon juice
DIRECTIONS:
Heat oven to 425°F. Place 1 pie crust in ungreased 9-inch glass pie plate. Press firmly against side and bottom.
In a large bowl, gently mix filling ingredients; spoon into crust-lined pie plate. Top with second crust. Wrap excess top crust under bottom crust edge, pressing edges together to seal; flute. Cut slits or shapes in several places in top crust.
Bake 40 to 45 minutes or until apples are tender and crust is golden brown. Cover edge of crust with 2- to 3-inch wide strips of foil after first 15 to 20 minutes of baking to prevent excessive browning. Cool on cooling rack at least 2 hours before serving.