I'm an adult now (and have been for some time) so I shouldn't really need excuses to eat my vegetables. But I still kind of do. It's not that I don't like them…but I don't necessarily jump for them either. That is, unless they're made in an especially tasty manner. This Creamy Broccoli Soup definitely qualifies.
As you can see in the photos, there are more vegetables than just broccoli in this soup, the recipe for which I found on the back of a pack of fresh broccoli. Carrots and celery add to the fresh flavor (from a photographic standpoint, I appreciate the punch of color too). There's no heavy cream involved here, but there is a bit of butter. Embrace it – the gentle buttery-ness is what really makes the soup especially savory and appealing.
I, of course, paired the soup with panini (the recipe for which will be posted on my other blog, Panini Happy, later this week) but it would also be great alongside roasts, salads or just a bowl on its own with some crusty bread.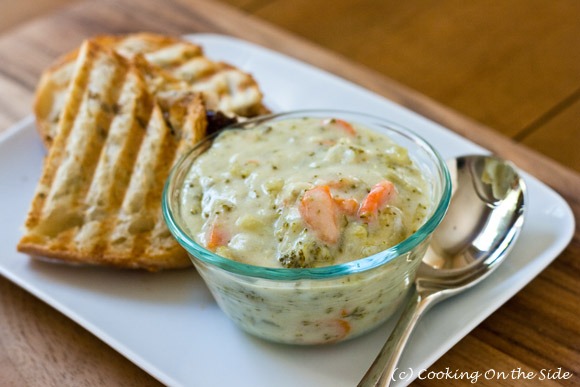 Creamy Broccoli Soup
From the back of a Private Selection Broccoli Florets package

Serves 4
INGREDIENTS:
4 cups broccoli florets
2 cups water
1/2 teaspoon onion salt
1 cup celery, chopped
1 cup carrots, chopped
1/2 cup yellow onion, chopped
6 tablespoons butter or margarine (I used unsalted butter and later added salt to taste)
6 tablespoons flour
3 cups chicken broth, low-sodium, may substitute vegetable broth
2 cups milk (I used low-fat)
1 tablespoon fresh parsley, minced
1/2 teaspoon garlic powder
DIRECTIONS:
In a large pot bring water and onion salt to boil and add broccoli, celery and carrots. Bring to a boil, drain and set aside.
Sauté onions in butter until tender. Stir in flour to form a smooth paste. Slowly add broth and milk, stirring constantly. Bring to a boil. Let boil for 1 minute: add vegetables and remaining ingredients. Reduce heat, cover and simmer for 30 to 40 minutes until tender.
Can be prepared 24 hours in advance – refrigerate any leftovers.