As enamored as I become with apples at this time of year, I sometimes forget another favorite sweet treat in season: pears. The ones I love the best come from Harry & David, but until corporate holiday gift season rolls around I'm happy with the pears that are just starting to show up at the grocery store.
Believe it or not, this Spinach Pear Salad recipe actually comes from one of those little packages of fresh herbs – rosemary, to be specific.  Baby spinach leaves, along with rosemary and parsley, are tossed in a red wine vinaigrette and topped with fresh sliced pears, toasted pecans and crumbled blue cheese. The inclusion of the herbs is a bit unexpected (I don't usually think of rosemary as a salad ingredient) and works really well here. It's a healthy, fresh-tasting salad that's quick to pull together – and did I mention it has pears?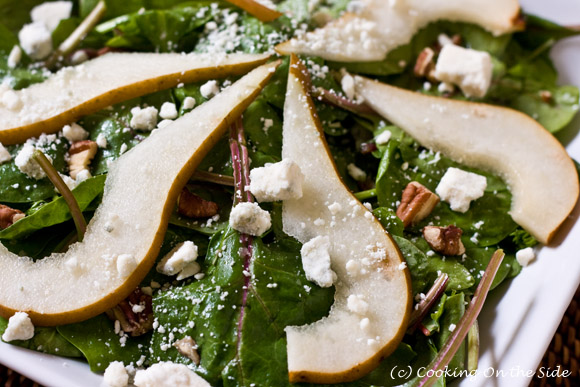 Spinach Pear Salad
From inside the HerbThyme Farms Fresh Rosemary package
INGREDIENTS:
2 tablespoons red wine vinegar
2 tablespoons rice vinegar
2 tablespoons vegetable or chicken broth
1 1/2 tablespoon minced shallots
2 teaspoons extra-virgin olive oil
1 tablespoon fresh parsley, chopped
2 tablespoons fresh rosemary, chopped
6 ounces fresh baby spinach leaves
4 teaspoons toasted pecans, chopped
2 ripe pears, cored, sliced thin
1/4 cup crumbled blue cheese
DIRECTIONS:
Process the first 5 ingredients in a blender. Pour into a large bowl with the herbs. Add salt and pepper to taste. Toss spinach and pecans in to coat with dressing. Serve and top with pears and cheese.