What makes a chocolate chip cookie chewy? How can I make thicker cookies? Or thin and crisp cookies? I'm afraid I've gone and geeked out again (remember the last time?) and did a little chocolate chip cookie recipe analysis to get to the bottom of these questions.
Most chocolate chip cookie recipes call for exactly the same ingredients, but for a variety of reasons (i.e.,amounts, baking time and temperature) they might come out chewier, crispier, thinner, thicker or even with different flavor. Read on for my comparison of the Toll House, Barry Callebaut (see the recipe at the end of this post) and Land O Lakes on-the-package recipes as well as tips for tweaking your favorite recipe to match your preferred cookie style.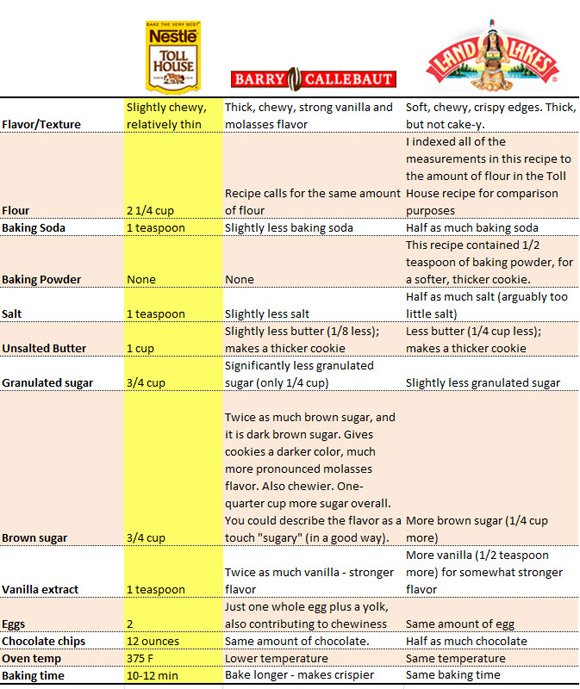 Above, I've compared the Barry Callebaut (see the recipe at the end of today's post) and Land O'Lakes recipes to the Toll House recipe (if you're curious about my methodology, see my note below) to identify where the recipes deviated from one another and what the resulting cookies were like. In a nutshell, to make your cookies…
…thicker

Reduce the amount of butter relative to flour (opposite of making cookies Crispier) – both the Land O Lakes and Barry Callebaut recipes call for a bit less butter than the Toll House recipe and both result in thick cookies.
For a softer, thick cookie consider using cake flour in lieu of all-purpose flour and leavening with baking powder rather than baking soda (here is an excellent primer from Serious Eats on baking powder vs. baking soda).
…thinner
Increase the amount of liquid (e.g., add milk) to make the cookies spread more.
Reduce the amount of moisture-holding ingredients, like flour. (See also advice for Crispier cookies)
…crispier
Reduce the amount of moisture-holding ingredients, like flour. Lower moisture means crispier cookies. Fat (aka, butter) also drives out moisture, according to the Sunset article. When you reduce flour the proportion of fat in the cookie dough will go up. (The Toll House recipe has the highest butter-to-flour ratio of the three and is the crispiest.)
Bake the cookies for a longer time at a lower temperature – they will have the opportunity to spread, dry and become crispy.
…chewier
Replace some granulated sugar with brown sugar (the chewiest of the three recipes, Barry Callebaut, has a greater than 5:1 ratio of dark brown sugar to granulated sugar)
Make larger cookies and bake them for a shorter period of time at a higher temperature. Take them out of the oven once the edges have browned but the centers are still pale.
…more flavorful
Add vanilla and/or salt; in a recipe that uses 2 1/4 cups of flour, 1 1/2-2 teaspoons of vanilla and 3/4-1 teaspoon of salt is excellent.
Chill the dough for 24 to 36 hours – it's the secret to bringing out the caramel and toffee notes in the now-famous New York Times chocolate chip cookie recipe
More chocolate is always better!
I'll bet you're feeling like baking some cookies now, right? To understand the impact of each ingredient, I consulted Michael Ruhlman's Ratio book (remarkable insights on the "formulas" behind all types of recipes), this informative article from Sunset as well as Alton Brown's recipes for Chewy, Puffy and Thin chocolate chip cookies.
Last, but not least, below is the Barry Callebaut chocolate chunk cookie recipe I mentioned. As you've probably gathered, it makes a thick, chewy cookie with a strong molasses flavor from a good amount of dark brown sugar. It is absolutely excellent. 🙂
NOTE: It's not easy to do an apples-to-apples (cookies-to-cookies?) comparison among recipes, but I did my best by using flour as a common denominator, so to speak. The amount of flour in a chocolate chip cookie recipe is usually a good indicator of the overall number of cookies the recipe will yield. Luckily, the recipe from the Barry Callebaut chocolate chunks package (a recent Williams-Sonoma splurge) happens to call for exactly the same amount of flour as the Toll House recipe. I adjusted the Land O'Lakes flour quantity to match the Toll House and Barry Callebaut recipes, and reduced all of the other ingredients proportionally.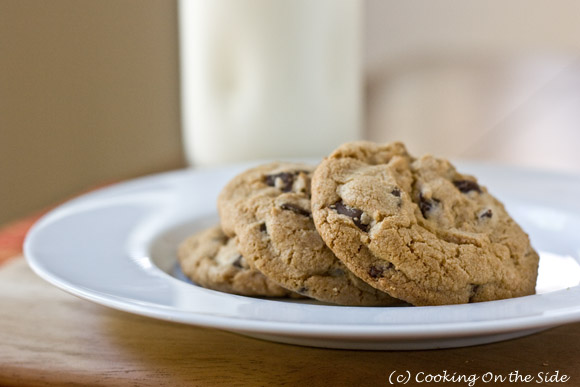 Chocolate Chunk Cookies
From the Semisweet Chocolate Chunk Cookies recipe on the back of the Barry Callebaut Chocolate Chunks package
Prep time: 20 min | Cook time: 36 min | Total time: 56 min
Yield: 24 cookies
INGREDIENTS:
2 1/4 cups (350g)

all-purpose flour

3/4 teaspoon

salt

3/4 teaspoon

baking soda

14 tablespoons (1 3/4 sticks/220g)

unsalted butter, cut into 1/2-inch (12 mm) pieces

1 1/2 cups (330g)

firmly packed dark brown sugar

1/4 cup (60g)

granualted sugar

2 teaspoons

vanilla extract

1

whole egg plus 1 egg yolk

12 oz. (340g)

semisweet chocolate chunks
DIRECTIONS:
Have all the ingredients at room temperature.
Position 1 rack in the upper third and 1 rack in the lower third of an oven. Preheat the oven to 350°F (180°C). Line 3 baking sheets with parchment paper.
In a bowl, whisk together the flour, salt and baking soda. Set aside.
In the bowl of an electric mixer fitted with the flat beater, beat the butter, brown sugar and granulated sugar on medium speed until light and fluffy, 3 to 4 minutes, stopping the mixer occasionally to scrape down the sides of the bowl. Add the vanilla, whole egg and egg yolk and beat until incorporated, about 1 minute. Reduce the speed to low, add the flour mixture and beat just until smooth, about 1 minute, stopping the mixer occasionally to scrape down the sides of the bowl. Using a rubber spatula, stir in the chocolate chunks.
Shape the dough into 24 balls, each 2 Tbs., and place them about 2 inches (5cm) apart on the prepared baking sheets. Place 1 sheet on the top rack of the oven and 1 sheet on the bottom rack. Bake until the cookies are golden brown, the edges are set and the centers are still a little soft, 16 to 18 minutes; rotate the baking sheets from top to bottom and 180 degrees halfway through baking.
Transfer the baking sheets to wire racks and let cool for 5 minutes, then transfer the cookies to the racks and let cool completely. Repeat to bake the remaining sheet of cookie dough. Makes 24 cookies. (Using a medium cookie scoop, my yield was 36 cookies)