A number of you expressed an interest in seeing a "biscuit bakeoff" after last week's Southern-Style Biscuits recipe from the back of the White Lily self-rising flour package. Does White Lily flour really make a better biscuit, as so many southern bakers claim? How do biscuits made with White Lily measure up to those made with other flours? Well, I was pretty intrigued too so I set out this weekend to find some answers.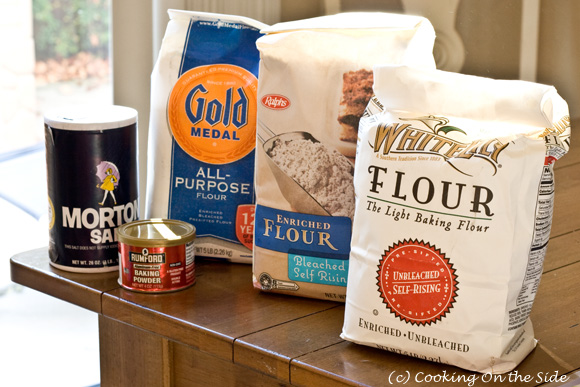 Hypothesis
Biscuit quality is impacted by the type of self-rising flour you use.
The Methodology
For a "base case" I looked to a bag of store brand self-rising flour. I would make the recipe on the back of the store-brand bag three times:
once with the store brand self-rising flour
once with White Lily self-rising flour, and
once with "self-rising flour substitute" (all-purpose flour + baking powder + salt, as specified on the Gold Medal All-Purpose flour package)
Each bag of flour was purchased within the past week. As far as defining "best" goes, the consensus among my friends on Twitter, was that a great biscuit should be fluffy and light. Here's how I chose to define those measures:
Fluffiness = Biscuit Height; the fluffiest biscuits will be the ones that rise the most
Lightness = Grams per Inch; the lighter the biscuit, the fewer grams per inch
While I did my best to make this test as fair as possible (I'm no statistician but I do like to dig into data), it's hardly scientific. Still, once you see the results I think you'll be pretty amazed!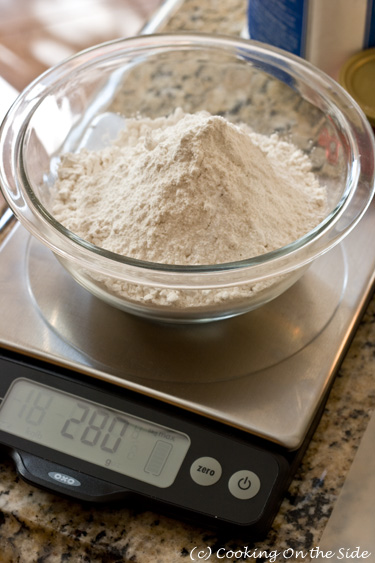 Equalizing the Flour
Since there can be a lot of variation when it comes to measuring (especially since White Lily is a lighter flour than the others), I decided to weigh the flour to ensure I used exactly the same amount in each batch. One cup of self-rising flour is equivalent to 140 grams, so I used 280 grams (2 cups) in each batch.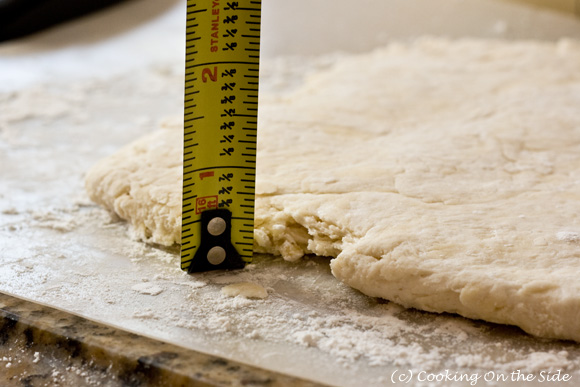 The Dough
I did my best to roll out each batch of dough to the same 1/2″ thickness. Nonetheless, I yielded a different quantity of biscuits each time (9 for the store brand, 11 for the self-rising substitute and 13 for White Lily).
Each of the doughs felt differently when I rolled them out too. The store-brand felt like typical biscuit dough I was used to, but the White Lily was notably softer and more pliable. My biscuit cutter easily slipped through the White Lily dough, barely needing any flour to keep it from sticking. The self-rising substitute dough was extremely dry and very difficult to form into a dough. The buttermilk seemed to absorb immediately.
The Biscuits
I baked a total of 33 biscuits across the three batches (it actually took the White Lily batch 5 minutes less time to bake than the other two)…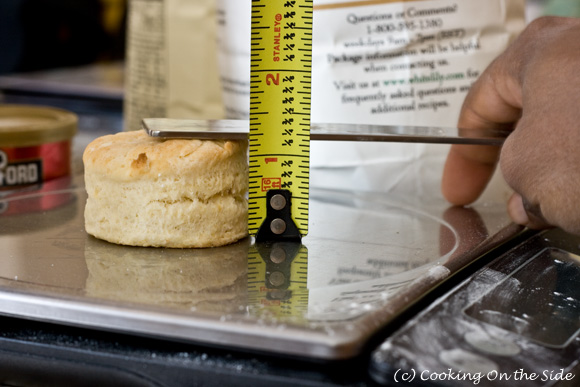 …and weighed and measured each one. As you can see from the scale, this was a rather messy operation!
Are you ready for the results??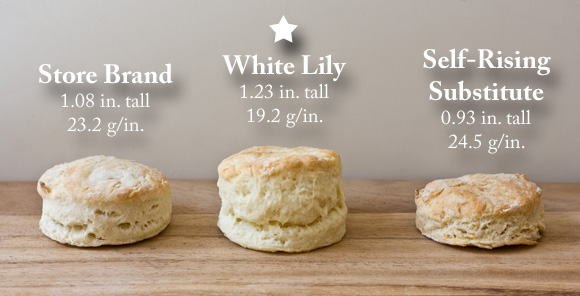 The Results
Holy cow, those southern cooks know what they're talking about! The White Lily self-rising flour far outperformed the store brand self-rising flour and the self-rising substitute.
I knew even as I was rolling out that soft, pliable dough that the White Lily biscuits were definitely going to be different from the others. They started rising in the oven almost immediately and just kept going…13% higher on average than the store brand and 32% higher than the self-rising substitute.
The White Lily biscuits also had the lowest grams per inch, which is how I chose to define "lightness" or density. All of the biscuits in this test weighed roughly the same – about 24 grams – but when the weight is distributed over a larger area, as in the case of White Lily, it feels lighter. Conversely, the self-rising substitute yielded an absolute hockey puck. They were as dry and dense as could be and absolutely horrible. I threw those out almost immediately!
Conclusion
So I'm going to be stocking a pack of that White Lily in my pantry from now on, right?! Wow, I never would have imagined what a difference a brand of flour could make. There is some actual science behind why White Lily flour is lighter than others and, thus, better suited for items like biscuits and cakes. If only they sold the stuff in stores outside of the South and parts of the Midwest. Until they do, I'll stick with ponying up to order it online.
I'll keep my store brand self-rising flour as a good backup. I was actually decently happy with how those biscuits came out. If I hadn't seen the White Lily ones I would have been perfectly content with the store brand. I probably will not, however, attempt to use a combination of all-purpose flour, baking powder and salt in place of self-rising flour. At least in this instance, it did not work very well at all.
And lastly…here's that biscuit recipe in case you'd like to try them out yourself (with the right flour it makes fantastic biscuits!)
Buttermilk Biscuits
From the back of the Ralph's Bleached Self Rising Flour package
Makes 8 to 10 biscuits
INGREDIENTS:
2/3 cup buttermilk
1/4 teaspoon baking soda
2 cups sifted self-rising flour*
1/3 cup vegetable shortening
DIRECTIONS:
Preheat the oven to 450°F.
Stir baking soda into buttermilk and set aside. Sift flour into medium bowl; cut in shortening until mixture resembles coarse meal. Stir in buttermilk mixture until just combined. Knead dough 3-4 times; roll to 1/2-inch thickness on lightly floured board. Cut into 2-inch rounds; place on ungreased baking sheet. Bake 12 to 14 minutes.
*If you do use White Lily, either weigh 280 grams of flour OR add an extra 4 tablespoons of flour.