When our plates arrived out at breakfast a few weeks ago, our eyes shifted immediately to the enormous biscuits. Lori (RecipeGirl) and I could not have been more eager to break ours open, explore the flaky layers and dollop on some mango preserves. Amanda (Kevin & Amanda), the Alabama girl that she is, took a more measured – yet equally pleased – approach to the biscuits. Coming from the South, biscuits are a standard for her. For Californians like Lori and I they're a little more…exotic?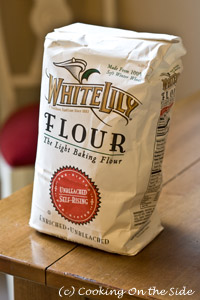 Recently I've been hearing southern bakers rave about the flour for making the flakiest, most tender biscuits called White Lily. Of course, it's only sold in the South and parts of the Midwest, but I did find it for sale online on the Smucker's website. On a whim I decided to give it a try. With shipping, I probably paid 3x what the flour costs at any Publix in Atlanta but I just had to see what all the fuss was about. And, you know, they have a biscuit recipe right there on the self-rising flour package. 🙂
What can I say…my family loved the biscuits! They were incredibly tender, light and fluffy, just as promised. At two inches in diameter, they were also a bit smaller than others I've had. Just a two-bite treat…they seem far less indulgent that way. I made a few heart-shaped ones for Valentine's Day. They're even cuter with a dab of raspberry jam.
P.S. I did pick up another brand of self-rising flour here locally. Does White Lily really surpass all others? Stay tuned for a biscuit face-off!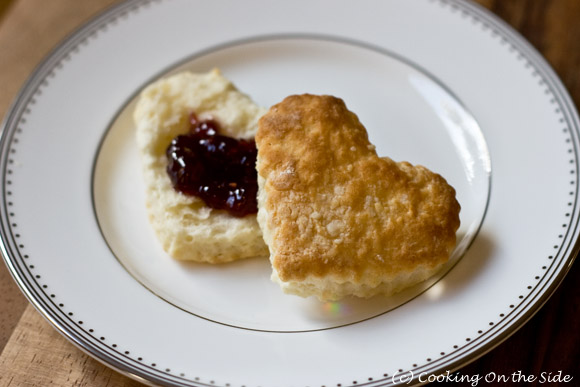 Southern-Style Biscuits
From the White Lily Light and Fluffy Biscuits recipe on the back of the White Lily Enriched Unbleached Self-Rising Flour package
Makes 12 biscuits
INGREDIENTS:
2 cups White Lily self-rising flour *
1/4 cup shortening, chilled
2/3 to 3/4 cups buttermilk or milk
DIRECTIONS:
Heat oven to 500°F. Coat baking sheet with no-stick cooking spray.
Measure flour into large bowl. Cut in shortening with pastry blender or 2 knives until crumbs are the size of peas. Blend in just enough milk with fork until dough leaves sides of bowl.
Turn dough onto lightly floured surface. Knead gently 2 to 3 times. Roll dough to 1/2-inch thickness. Cut using floured 2-inch biscuit cutter. Place on prepared baking sheet 1-inch apart for crisp sides or almost touching for soft sides.
Bake 8 to 10 minutes or until golden brown.
* I normally don't specify brands in recipes on this blog, but in this case legions of southern bakers swear there is something unique to this particular brand of flour. Other brands may work fine too, but the recipe was created for White Lily flour.