After the Snoopy valentines and conversation hearts, what my sisters and I used to look forward to most about Valentine's Day as kids was the big heart-shaped box of chocolates my dad would bring home for us my mom. It was a fun game to guess what was inside each piece (through extensive sampling, of course). But whatever you did, it was imperative to AVOID the cherry cordial one! Ewwwww!!
Fast forward twenty-five years and I find myself buying a bag full of only cherry cordial chocolates. Another sign that might be a grown up! I did have an alterior motive: I was intrigued by the cookie recipe on the back. It was a chocolate brownie-like thumbprint cookie rolled in chopped hazelnuts with a cherry cordial-filled Hershey's kiss nestled in vanilla icing on top. It looked to me like a grown-up version of those peanut butter Hershey's kiss thumbprint cookies my mom always made.
These cookies are small but they pack some amazing complementary flavors, between the chocolate, the hazelnuts and the cherry cordial creme. What terrific little bites! The absolute best time to pop these cookies in your mouth is about 5 minutes after adding the kiss on top (that's when I took these photos, you can see how the heat from the cookie softens the chocolate just enough to make it melt in your mouth almost immediately). I think they would be fabulous with the regular all-chocolate kisses as well but if you have the chance to try them with the cherry cordial kind while they're still available it's a real treat.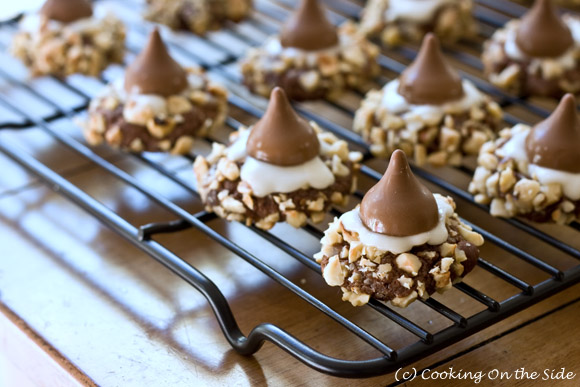 Cherry Cordial Chocolate Thumbprint Cookies
From the back of the Hershey's Kisses Brand Milk Chocolates filled with Cherry Cordial Crème package
Makes about 2 dozen cookies

INGREDIENTS:
1/2 cup (1 stick) butter or margarine, softened
2/3 cup sugar
1 egg, separated
2 tablespoons milk
1 teaspoon vanilla extract
1 cup all-purpose flour
1/3 cup unsweetened cocoa
1/4 teaspoon salt
1 cup finely chopped nuts (I used hazelnuts)
Vanilla Filling (recipe follows)
26 Hershey's Kisses Brand Milk Chocolates filled with Cherry Cordial Crème
DIRECTIONS:
Beat butter, sugar, egg yolk, milk and vanilla in medium bowl until fluffy. Stir together flour, cocoa and salt; gradually add to butter mixture, beating until blended. Refrigerate dough at least 1 hour or until firm enough to handle.
Heat oven to 350°F. Lightly grease cookie sheet. Shape dough into 1-inch balls. With fork, beat egg white slightly. Drip each ball into egg white; roll in nuts. Place on prepared cookie sheet. Press thumb gently in center of each cookie.
Bake 10 to 12 minutes or until set. Meanwhile prepare Vanilla Filling. Remove wrappers from chocolate pieces.
Remove cookies from cookie sheet to wire rack; cool 5 minutes. Spoon about 1/4 teaspoon filling into each thumbprint. Gently press chocolate piece in center of each cookie. Cool completely.
Vanilla Filling: Combine 1/2 cup powdered sugar, 1 tablespoon softened butter or margarine, 2 teaspoons milk and 1/4 teaspoon vanilla extract in small bowl; beat until smooth.