We have what I consider to be a great system in our house. I create the week's menu, buy the food and cook the meals…my husband does the dishes. It works out most of the time except for my occasional penchant for using nearly every dish in the kitchen to prepare a meal. As I eagerly describe the fabulous roast chicken with sautéed Swiss Chard and homemade rolls I'm planning to make on a Sunday afternoon, all my husband hears is "skillet, knives, cutting board, roasting pan [baked on juices!], bowls, measuring cups, measuring spoons, baking sheet…"
When I find a good one-pot dish it makes both of us happy. 🙂 I found this Honey Lemon Chicken recipe on a bag of sushi-style rice. The chicken, rice and vegetables all simmer in a braising liquid of honey, lemon, soy sauce and chicken broth in the same pot. Not only did this save me from dirtying too many dishes, it also saved on time – I had dinner on the table in about 45 minutes. Most importantly, the sweet and savory flavors were wonderful. What's more comforting than chicken and rice?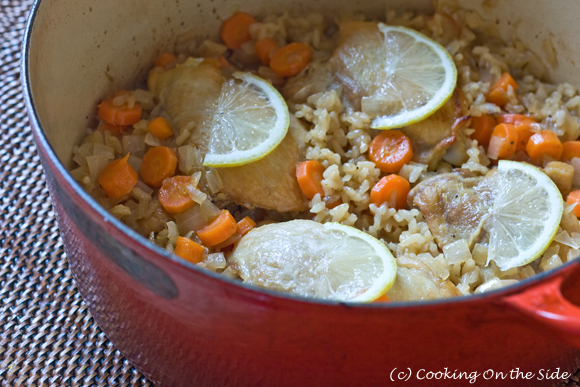 Honey Lemon Chicken
From the back of the Botan Calrose Rice package
Makes 4 servings
INGREDIENTS:
1 lemon
1 chicken bouillon cube
2 tablespoons honey
1 tablespoon soy sauce
2 teaspoons vegetable oil
8 chicken thighs (about 2 1/2 lb), skin and excess fat removed
1/2 cup chopped onion
3/4 cup calrose rice*, uncooked
3 carrots, thinly sliced
1/4 teaspoon black pepper
DIRECTIONS:
Grate enough peel from lemon to measure 1 teaspoon. Extract 1 tablespoon lemon juice from lemon. Dissolve bouillon in 1 1/4 cups hot water. Mix in honey, soy sauce, lemon juice and peel.
Heat a large frying pan over high heat. Add oil; coat bottom of pan. Add thighs, in a single layer. Cook 3 to 4 minutes on each side, or until browned. Remove from pan.
Add onion to same pan; sauté 30 seconds. Mix in rice, carrots, pepper and honey mixture. Arrange chicken, in a single layer over top. Bring to a boil. Reduce heat to low. Cover and simmer 30 minutes, or until liquid is absorbed. Remove from heat. Let stand covered 10 minutes before serving.
* I found Botan Calrose Rice in the Asian section of my local grocery store. Wal-Mart carries it as well so it should be pretty widely available. If you're not able to find it, try another short-grain sushi rice.