I did not have the ingredients, I did not have the time. But I did have the hankering and, it seems, that goes quite a long way toward making food happen in my kitchen. It was through sheer determination, plus support from my husband, that I managed to pull off this Meyer Lemon Whipping Cream Pound Cake – the lightest, most velvety, lemony pound cake I've ever tasted.  A window into my world this past Sunday:
2:00 PM – I'm convinced there's no way I can get a pound cake prepped, baked, cooled, glazed and photographed before the sun goes down.
2:05 PM – We're gonna do this. Mike dashes to Vons for whipping cream and a new bundt pan (not sure if the one I have is the right size or not, still can't find that ruler). I preheat the oven, set out the butter and eggs and watch Special Agent Oso with the kids while I wait for him to get back.
2:27 PM – Mike's back from the store. He takes over the baby duty and I start up the KitchenAid.
2:55 PM – I get concerned about the lack of leavening ingredients in the recipe, but I go with it anyway, resolving to cream the butter and sugar extra well to make sure the cake stays light. I'm anxious to see what the addition of whipping cream will do to the texture of this cake. I pour the batter (which, by the way, tastes like a milkshake!) into my old bundt. We found the ruler, it's the right size after all. The cake goes in the oven, timer is set for an hour and fifteen minutes.
2:57 PM – Mike puts jackets on the kids and escorts them to the backyard to play. I enter the final items onto my iPhone shopping list and head out to Ralph's to procure the week's groceries while the cake is baking. Multitask!
3:51 PM – I'm back home in record time. House smells invitingly like cake. Before unpacking the groceries I turn on the oven light and peek through the window. The cake has risen almost to the brim of my bundt. Definitely the right size!
4:05 PM – With a few minutes left on the oven timer, I put on water to boil for the artichoke pasta dish we're having for dinner (and which I also intend to post on this blog).
4:10 PM – The timer starts beeping. I go in with my long skewer to check the cake, it comes out clean. Out it goes to the cooling rack. It now occurs to me the cake needs to cool completely before I can apply the glaze. A glance out the window at the dusk-like sun position raises my blood pressure a few notches.
4:45 PM – I set up my camera and shoot the pasta dish. The family is eager to dive into their dinner that's out on the table. But no. Mommy's not quite ready yet.
5:00 PM – Cake is still warm but oh well. It is already way too late to be photographing, but I gotta do what I gotta do.
5:03 PM – I wreck the Meyer lemon glaze. Duh…if you add lemon juice to cream (the glaze recipe I was adapting called for cream) it's gonna curdle. I scrap it and whip up a second batch of glaze, sans the cream. It's on the thick side, as I only have one lemon left, but it tastes fantastic and drapes nicely on the cake.
5:15 PM – It's barely light outside. I shoot the cake anyway. And then I cut a sample slice. There is absolutely nothing like still-warm cake and this one is unbelievable. The whipping cream, it turns out, makes it super moist with a truly velvety texture. Oh. So. Worth it all.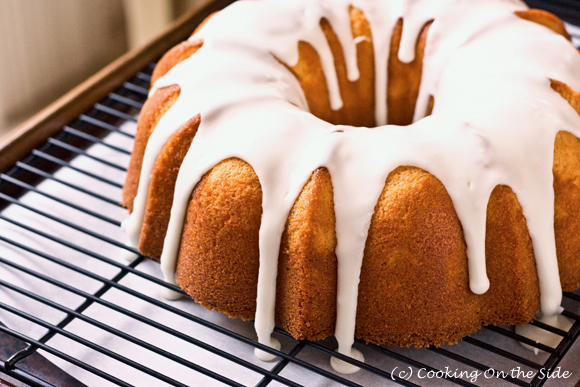 Meyer Lemon Whipping Cream Pound Cake
Adapted from the Whipping Cream Pound Cake recipe on the back of the Swans Down Cake Flour box
INGREDIENTS:
3 sticks salted butter (softened)
3 cups sugar
6 eggs
3 cups sifted cake flour
1/2 pint whipping cream
1/2 teaspoon vanilla extract
1/4 cup fresh Meyer lemon juice
2 tablespoons grated Meyer lemon zest
DIRECTIONS:
Preheat oven to 325°F.
Butter and lightly flour 10 inch tube pan (I used a bundt sprayed with Pam for Baking). Sift cake flour, then lightly spoon 3 cups cake flour into measuring cup.
Combine sugar and butter until creamy in large bowl. Add eggs one at a time, beating well after each addition. Add in flour and whipping cream alternately. Stir in vanilla, lemon juice and zest. Pour into prepared tube pan.
Bake for approximately 1 hour 15 minutes – 1 hour 30 minutes or until long tester is inserted to reach middle of cake and it comes out completely clean. Cool completely.
Meyer Lemon Glaze: Combine 2 cups of confectioner's sugar and the juice of 1-2 Meyer lemons (depending on how thick you like your glaze). Beat until smooth and creamy. Drizzle over cooled cake.