How many times have you come across a recipe like the one below for Penne with Artichokes on a food label? A tiny 3″ square with no photo or headnotes, significantly truncated to fit on the box?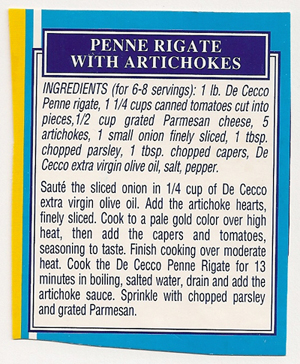 Recipes like this are kind of mysterious. You have no idea of what the dish looks like or how it tastes and it can be a challenge to decipher the oh-so-brief directions. It was mysterious little on-the-package recipes like these which sparked my interest in starting this blog two years ago. There were so many of them popping up on labels in my pantry, I became very curious to see how they actually came out and hoped to find some hidden gems along the way (which I have).
You guys know that when I say food packages I don't mean "packaged food", as in mixes and prepared or processed foods, right? Every once in a while someone will indicate to me that they think Cooking On the Side is about cooking with processed foods and I cringe. Yikes, it's just the opposite!
Wherever possible, I like to cook from scratch. For this blog, I look for the recipes that appear on basic ingredients – flour, butter, fresh meats and vegetables, pasta, chocolate and so on. I have found a number of fabulous new recipes in the course of this little endeavor – and today's easy, flavorful tomato and artichoke pasta dish is one of them.

So now you can see what that tiny 3″ square recipe on the back of the De Cecco penne rigate box actually looks like. It's one of those incredibly simple, homey pasta dishes that will be a perfect addition to your repertoire of quick weeknight dinner options. The recipe left out a few details, such as whether to use fresh or jarred artichoke hearts or how long to simmer the artichoke sauce, so I filled in some of the details as seemed right to me.
I've seen little recipes like these on each of the different De Cecco boxes – now I'm anxious to try them all.
Penne with Artichokes
Adapted from the back of the De Cecco Penne Rigate package
Prep time: 10 minutes | Cook time: 25 minutes | Total time: 35 minutes
Yield: 6-8 servings
INGREDIENTS:
1

small onion, finely sliced

1/4 cup

extra virgin olive oil

5

artichoke hearts, finely sliced

1 tablespoon

capers

1 1/4 cups

canned diced tomatoes

1 lb.

penne rigate

1 tablespoon

chopped parsley

1/2 cup

grated Parmesan cheese
DIRECTIONS:
In a skillet over medium-high heat, sauté the sliced onion in the olive oil. Add the artichoke hearts. Cook to a pale gold color over high heat, then add the capers and tomatoes, seasoning to taste. Simmer 15-20 minutes over medium heat.
Cook the penne rigate until al dente according to package directions in boiling, salted water. Drain and add to the artichoke sauce. Sprinkle with chopped parsley and grated Parmesan.