Between these Caramelized Banana Waffles I'm sharing here today and the Waffle Sandwich recipe I've got over on my other blog, Panini Happy (along with a Weelicious cookbook giveaway – head on over to enter!) it was quite the waffle-y weekend at our house.
Every time I make waffles I wonder why I don't do it more often (same with going to the theater). In the brief amount of time it takes to mix up the batter the waffle iron is already heated and ready to go. These Caramelized Banana Waffles get their tender texture and hint of vanilla flavor from vanilla Greek yogurt. I've been on a huge Greek yogurt kick ever since the Yogurt Mixed Berry Pie I made earlier this spring. Chobani seems to switch out its on-the-container recipes often, which has definitely fed my yogurt cooking addiction.
Banana fans delight – spooning caramelized bananas over the top of anything is an incredible treat. They take just a few minutes to get browned and extra-sweet in the skillet, then you pile them on your freshly pressed waffles with more vanilla yogurt and toasted almonds. This definitely qualifies as dessert for breakfast!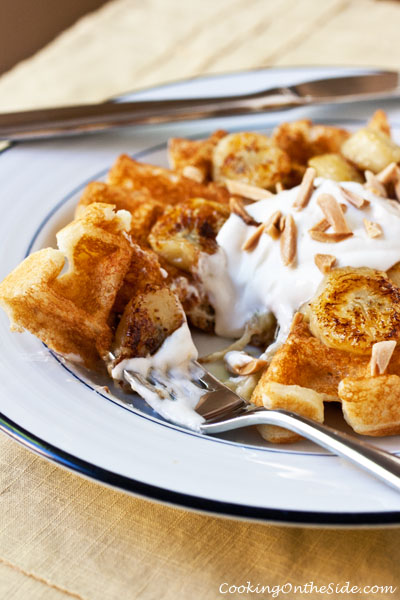 Caramelized Banana Waffles
Slightly adapted from the Brûléed Banana Waffles recipe from the Chobani Vanilla Greek Yogurt container
Prep time: 15 minutes | Cook time: 15 minutes | Total time: 30 minutes
Yield: 4 waffles
INGREDIENTS:
2 1/4 cups

vanilla Greek yogurt, divided

1/4 cup

instant oatmeal

1 cup

buttermilk

1/4 cup

canola oil

1

large eggs

2/3 cup

all-purpose flour

1/4 cup

cornstarch

2 teaspoons

baking powder

1/2 teaspoon

baking soda

1/4 teaspoon

kosher salt

4

bananas, halved and chopped

3/4 cup

orange juice

1/4 cup

toasted, slivered almonds
DIRECTIONS:
Mix 1/4 cup yogurt with oatmeal. Add buttermilk, oil and egg.
Mix flour, cornstarch, baking powder, baking soda and salt. Combine with yogurt mixture. Cook in a greased waffle iron.
Brown bananas in a greased nonstick pan over medium heat for 2 min. Flip, add orange juice, cook 30 seconds.
Serve over waffles with more yogurt and almonds.