You'd think that after all the toffee I consumed last week I wouldn't want anything more to do with the stuff for a while, but it's not so. On the contrary, I was quite eager to chop up some of the decadent candy that had eluded my eager hands and parlay them into the Toffee Almond Shortbread recipe that I found on yet another package of butter (I've definitely become a fan of these recipes from the butter producers!).
I wondered aloud on Twitter whether I should dip these cookies in chocolate or not. The response from the Twitterverse was a resounding "YES!" and I'm glad I heeded their advice. Shortbread is rich and sweet enough on its own, and this one with the toffee bits was no exception. But the chocolate makes it just a little bit more special and I think it looks especially nice with the star shapes.
As you can see in the photos, I've packaged up these little stars to give away as gifts. But never fear – I still have plenty of odd scraps left over from the cookie cutting to last us through the holidays (and, yes, I dipped those in chocolate too :-)).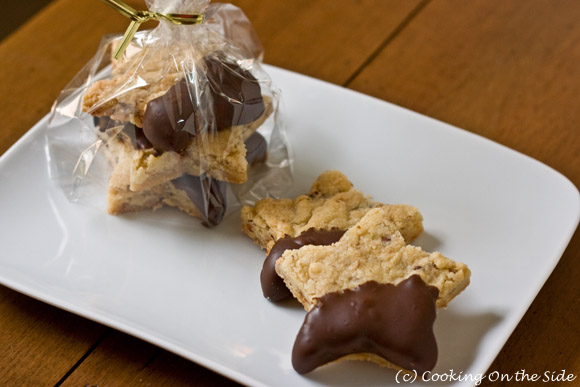 Toffee Almond Shortbread
From inside the Horizon Organic unsalted butter package
Makes 3 dozen bars
INGREDIENTS:
1 cup unsalted butter, room temperature
1 cup sugar
1 egg yolk
1 teaspoon vanilla extract
1/2 teaspoon salt
1/2 cup chopped almonds, lightly toasted
1/2 cup toffee bits
2 cups all-purpose flour
DIRECTIONS:
Preheat oven to 350°F.
Butter a 13×9-inch pan. Using an electric mixer combine butter and sugar until blended. Stir in egg yolk, vanilla, salt, almonds and toffee bits. Add flour all at once and mix on low speed just until incorporated. Dough will be coarse and crumbly. Press evenly into prepared pan. Bake for 20 to 25 minutes, until barely colored. Cut into bars while slightly warm.
If you'd like to dip the cookies in chocolate, as I did: Melt 1 cup of semi-sweet chocolate chips in the microwave at 50% power for 1 1/2 minutes. Stir and continue heating at 15-30 second intervals, stirring until smooth. Dip each cookie in the chocolate and allow to cool and set on a wire rack.