I recognized that first time that I brought homemade cookies with me to the hair salon that I would be setting a precedent. None of the stylists ever come out and ask when I arrive for my appointment. They greet me with smiles and hugs as always. But I try to put their curiosity to rest early on – yes, she brought them!
The truth is I love to have an excuse to bake cookies. I am a bit of a cookieholic (they're up there with french fries as my most significant vices), so the sooner I can get my fix and usher the rest out of the house the better. Luckily, it's not too difficult at all to find people to help take cookies off your hands.
If you recall our lessons from my Anatomy of a Chocolate Chip Cookie post a few months back, this Chocolate Chip Oatmeal Cookie recipe goes for the thick and chewy approach. They are fabulous. If you didn't know the ingredients, you might be taken aback a little by the unusual yet highly appealing flavor of these cookies. A dose of cinnamon and ginger give a gentle hint of spice that works so phenomenally with the chocolate and the nutty oats. I will not forget the raisins again next time, as I'm sure they would be a perfect match for the spices as well. The staff at the salon loved them!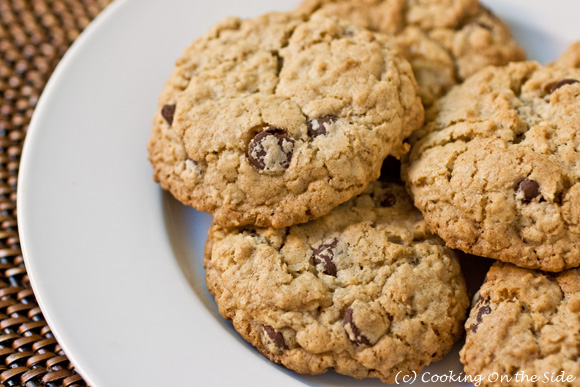 Chocolate Chip Oatmeal Cookies
From the Really Delicious Organic Chocolate Chip Oatmeal Cookies recipe on the back of the O Organics Chocolate Chips package
Prep time: 10 minutes | Cook time: 40 minutes | Total time: 50 minutes
Yield: 3 dozen cookies
INGREDIENTS:
1/2 lb

(2 sticks) butter or margarine, melted

1 cup

granulated sugar

1 cup

packed golden brown sugar

2

large eggs

1 teaspoon

vanilla extract

2 cups

all purpose flour

1 teaspoon

baking powder

1 teaspoon

baking soda

1 teaspoon

ground cinnamon

1 teaspoon

powdered ginger

2 1/2 cups

quick rolled oats

1 cup

semisweet chocolate chips

1 cup

raisins

3/4 cup

coarsely chopped walnuts or pecans (optional)
DIRECTIONS:
Preheat the oven to 375°F. Line 2 baking sheets with parchment paper or grease them.
In a large mixing bowl with an electric mixer, beat butter and sugars on low speed until blended, about 1 minute.
Mix in eggs and vanilla, about 1 minute.
Add flour, baking powder, soda and spices. Mix on low speed until combined, about 1 minute.
Add oats, chocolate chips, raisins and nuts, if using, and mix on low until incorporated. (If the mixture is too stiff, you may need to stir them in by hand.)
Drop the batter by rounded tablespoons (I used a medium cookie scoop) about 1 1/2-inches apart onto prepared baking sheets.
Bake for 10 to 13 minutes or until the edges are golden brown and centers are pale and soft. They will look underdone, but will firm up considerably as they cool. If baking on 2 oven racks, rotate their positions halfway through the baking time.
Immediately remove to racks to cool. (The cookies may be stored airtight for several days or frozen.)