It was about time we switched things up at lunch. On most days, my kids get a peanut butter and jelly sandwich or a quesadilla for lunch. They like it and I can pull it together and get it onto their Dora the Explorer sectioned plates before a meltdown erupts (that's mainly my 20-month-old little guy – he doesn't like to wait).
This Chicken Curry recipe, from a can of coconut milk, has been staring at me from the recipe clipboard I recently installed inside my pantry door. In particular, I was drawn to the words "30 minutes total time" at the top. It was going to be dinner one night this week but then I had a light bulb moment: why not make it for lunch instead? Chicken, vegetables and rice in a flavorful broth…that's something my kids will definitely eat.
This turned out to be an excellent excuse to break from our PB&J and quesadilla lunch rut. It's a mild-flavored curry, with gentle warmth but not overwhelming heat (of course, you have control over the spice level). Not only did I actually manage to prepare it in about thirty minutes, but I also was able to photograph it within a timeframe acceptable to him-of-little-patience.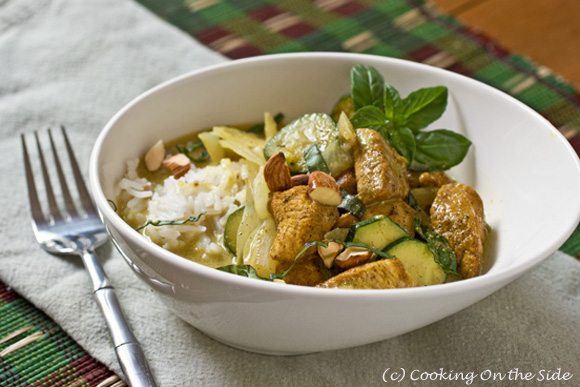 Chicken Curry
From the side of the Ralph's Authentic Coconut Milk can.
Prep time: 15 minutes | Cook time: 17 minutes | Total time: 32 minutes
Yield: 4 servings
INGREDIENTS:
1 lb

boneless chicken breasts

2 tablespoons

curry powder

1/4 teaspoon

ground cinnamon

2 tablespoons

olive oil

1

medium onion, thinly sliced

2

medium zucchini, thinly sliced

1 1/2 cups

chicken broth

1 1/2 cups

coconut milk

1 teaspoon

salt

1/4 teaspoon

black pepper

1/2 cup

fresh basil leaves, torn

1/4 cup

almonds, roughly chopped

Cooked White Rice (I used jasmine rice)
DIRECTIONS:
Pat the chicken dry with paper towels. Cut the chicken into 1-inch pieces and place them in a bowl. Sprinkle the chicken with curry powder and cinnamon, toss and set aside.
Heat 1 tablespoon of the oil in a large skillet over medium heat. Add the onion and zucchini and cook until soft, 4 to 5 minutes. Transfer the vegetables to a plate.
Add the remaining oil to the skillet, add the chicken and cook until brown on all sides, about 5 minutes total.
Add the broth, coconut milk, salt and pepper. Bring to a gentle simmer.
Return the onion and zucchini to the pan and heat until the chicken is cooked through, about 5 to 7 minutes. Season with additional salt and pepper to taste.
Divide the rice among individual bowls, top with the chicken curry and sprinkle with the basil and almonds.
Refrigerate any leftovers.