Over the past few years there's been a little sleeper of a cookie trend among the food blogs. It hasn't come through in huge waves, like macarons or hasselback potatoes. Just an isolated post here and there…but over time it's nearly evolved into a movement.
Food bloggers have been tinkering with snickerdoodles.
Snickerdoodles – the after school cookie jar favorite that I, until recently, only knew in its classic form: rolled in cinnamon sugar. Well, the realm of snickerdoodles has expanded greatly. Check out some of the incredible flavor variations people have come up with:
Someone needs to open an all-snickerdoodle bakery stat!
If a flavor tastes great with cinnamon and sugar, it'll probably taste great in snickerdoodles. That's the guiding thought I had in my head as I gazed at the big bowl of clementine oranges on my kitchen island. The next thing I knew, golden hued, citrus-scented Clementine Orange Snickerdoodles were emerging from the oven. Adding clementine zest and juice to the classic recipe I shared on the blog a while back gave the cookies just enough of a flavor twist to be complementary and interesting, not overpowering. Now to give some of these other variations a spin…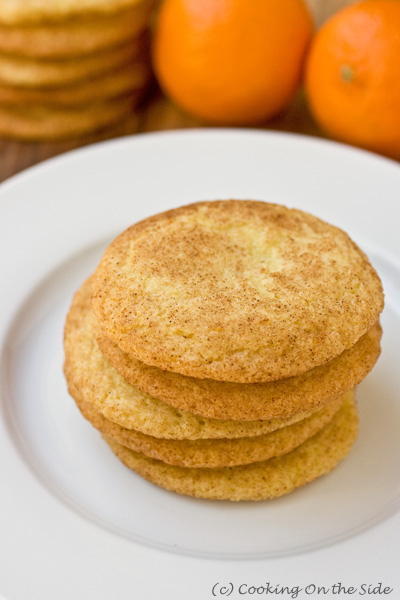 Clementine Snickerdoodles
Adapted from the Snickerdoodles recipe on the back of the Gold Medal all-purpose flour package
Prep time: 20 minutes | Cook time: 30 minutes | Total time: 50 minutes
Yield: 5 dozen cookies
INGREDIENTS:
Cookies:
1 1/2 cups

sugar

Zest of 2 clementine oranges

1 cup (2 sticks)

unsalted butter, softened

2

eggs

2 tablespoons

freshly squeezed clementine orange juice

2 3/4 cups

all-purpose flour

2 teaspoons

cream of tartar

1 teaspoon

baking soda

1/4 teaspoon

salt
Cinnamon Sugar Topping:
3 tablespoons

sugar

1 tablespoon

ground cinnamon
DIRECTIONS:
Heat the oven to 400°F.
Combine the sugar, butter, clementine zest, juice and eggs in a large bowl. Stir in the flour, cream of tartar, baking soda and salt.
Shape the dough by rounded teaspoonfuls into balls. Combine the cinnamon sugar topping ingredients together in a small bowl; roll the balls in the mixture. Place the balls about 2 inches apart on an ungreased cookie sheet, lined with parchment.
Bake the cookies until they're set and golden, 8 to 10 minutes. Immediately remove them from the cookie sheet. Cool them completely on a wire rack.
You can, of course, always substitute other varieties of oranges in this recipe. If you use a navel orange or another that's much larger than a clementine, you'll probably only need the zest from one piece of fruit.