There are only 2 teaspoons of olive oil in this entire heart healthy Chicken Tomato Sauté dish – I was amazed! Most recipes usually call for 2 tablespoons of oil, but when you're using a nonstick pan you scarcely need any at all. I often forget this about my nonstick pans. I usually just glug in a tablespoon or two regardless of the type of pan I'm using (I blame too much cooking TV!).
The folks from Teflon sent me a Farberware Restaurant Pro 12-Inch Skillet to try out (they're also giving one away to one lucky reader – find out how to enter at the end of this post!) in honor of February's Heart Health Month campaign. If it looks like there's a ton of food in that skillet in the photo it's because there is. This is a wide, deep pan with sloped sides – almost like a wok – and it easily accommodated all of the lean chicken breast and fresh vegetables I chopped to prepare this dish. And, as you might expect, everything slid out easily when it came time to serve.
I don't use nonstick pans for everything – when I want to get a good sear on meat or I need to transfer a skillet from the stovetop to the oven at high heat I'll go with cast iron or stainless steel – but they're very much a part of my everyday cooking. And from now on I'll be going a little easier on the oil when I use them! Read on for the recipe for today's Chicken Tomato Sauté plus enter to win a Farberware Restaurant Pro 12-Inch Skillet of your own! [THE GIVEAWAY IS NOW CLOSED]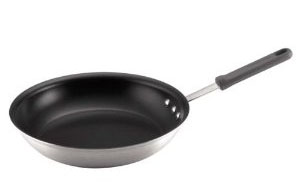 ** WIN a Farberware Restaurant Pro 12-Inch Skillet! **
Here are five ways to enter, you can do any or all of them (please leave separate comments for each entry): 

The giveaway will close on Friday, February 24 at noon PST. [THE GIVEAWAY IS NOW CLOSED] I will use random.org to select one winner and I will announce the winner in this post. I will contact the winner via e-mail – if I don't receive a response within 5 days I will draw another name. My apologies to international readers, the prize can only be shipped to U.S. addresses.
**UPDATED 2/28/12: Congratulations to our winner – #2 Lisa S.! **
Thanks to Teflon for providing the skillets for today's review and giveaway. I did not receive financial compensation and my opinions are, as always, my own.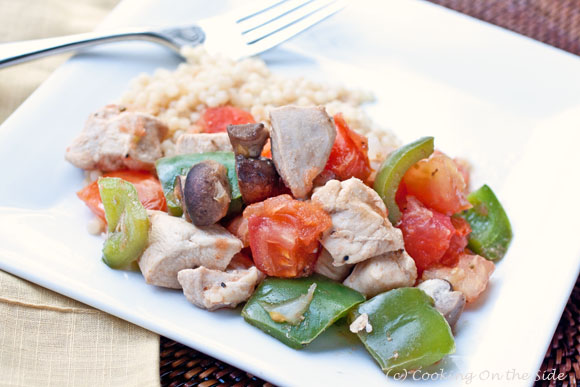 Chicken Tomato Sauté
Recipe from Teflon®
Prep time: 25 minutes | Cook time: 20 minutes | Total time: 45 minutes
Yield: 4 servings
INGREDIENTS:
2 teaspoons

olive oil

1 1/4 pounds

boneless, skinless chicken breasts, cut into 1-inch pieces

3 cups

halved white mushrooms (about 8 ounces)

2 cups

diced sweet green bell pepper, cut into 1-inch pieces

2/3 cup

chopped yellow onion

2 cloves

garlic, minced

2 pounds

fully ripened fresh tomatoes, cut into 1-inch chunks (about 5 cups)

1 teaspoon

salt

1 teaspoon

dried thyme or oregano, crushed

1/2 teaspoon

ground black pepper

Balsamic vinegar
DIRECTIONS:
In a large skillet coated with DuPont Teflon® non-stick coating, heat the oil over medium heat. Add the chicken pieces; cook and stir until browned, about 8 minutes.
Add the mushrooms, green pepper, onion, and garlic; cook and stir until the mushrooms release their liquid, about 6 minutes. Stir in the tomatoes, salt, thyme, and black pepper. Cook, stirring occasionally, until the tomatoes are heated through, about 4 minutes. Add a splash of balsamic vinegar and serve over noodles or rice, if desired.