Some people dedicate space in their house for special bottles of wine – I have the special White Lily section of my pantry . It's where I keep "the good stuff". You Southerners who can find this super-light flour in any local grocery store are so lucky! I have to pay a pretty big premium to have it shipped to California, but for the lightest cakes, muffins and biscuits it's worth it.
Today's Blueberry Streusel Muffins recipe marks the fifth White Lily recipe I've featured on this blog – a record! Technically, it's from the White Lily website and not the actual flour package itself (I've actually already made all of their on-the-package recipes!). What I love most about this recipe is it's simplicity. They are simple, straightforward, fluffy homemade blueberry muffins you can bake on a weekday morning in about 30 minutes. What a treat! One thing to note: the streusel topping is more of a light, sugary crust than a thick crumb layer.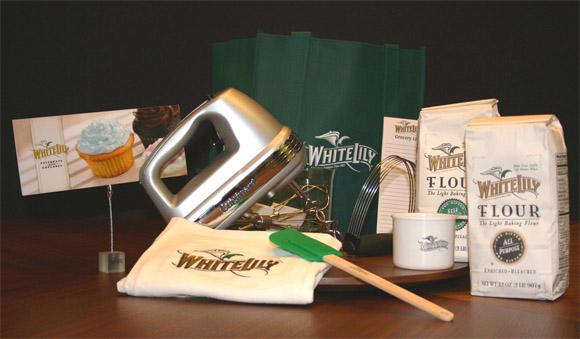 We've got a great baking giveaway today! White Lily would like to send one lucky Cooking On the Side reader their Baking Essentials Kit, which includes a Cuisinart 7-Speed Electric Hand Mixer, one bag each of White Lily Self-Rising and All-Purpose flour, a variety of baking tools, recipe pamphlets and a grocery tote. Read on for the Blueberry Streusel Muffins recipe and for details on how to enter the giveaway! [THE GIVEAWAY IS NOW CLOSED]
**WIN a White Lily Baking Essentials Kit**
The kit includes:
Cuisinart 7-Speed Electric Hand Mixer (with dough hooks)
OXO Dough Blender
White Lily tea towel, grocery tote, spatula, measuring cup, recipe cube and magnetic grocery list
White Lily recipe pamphlets
One bag each of White Lily Self-Rising and All-Purpose flour
Here are five ways to enter, you can do any or all of them (please leave separate comments for each entry): [THE GIVEAWAY IS NOW CLOSED]

The giveaway will close on Monday, March 12 at noon PDT. I will use random.org to select one winner and I will announce the winner in this post. I will contact the winner via e-mail – if I don't receive a response within 5 days I will draw another name. My apologies to international readers, the prize can only be shipped to U.S. addresses.
**UPDATE 3/14/12: Congratulations to our winner – #66 Becca! **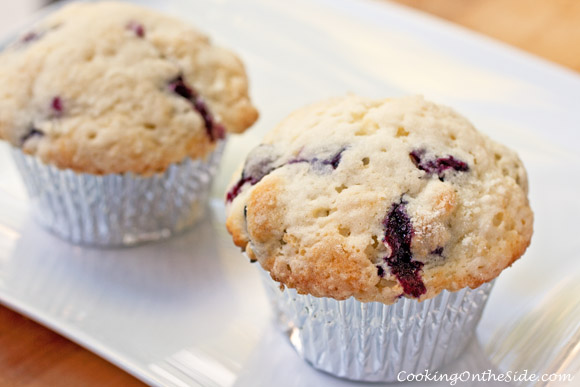 Blueberry Streusel Muffins
From the Blueberry Muffins with Streusel Topping recipe on the White Lily website
Prep time: 10 minutes | Cook time: 18 minutes | Total time: 28 minutes
Yield: 12 muffins
INGREDIENTS:
Topping:
2 tablespoons

White Lily® Self-Rising Flour*

2 tablespoons

sugar

1 tablespoon

butter, softened
Muffins:
1 cup

blueberries

2 cups

White Lily® Self-Rising Flour **

1/3 cup

sugar

3/4 cup

milk

1

large egg, lightly beaten

1/4 cup

vegetable oil
DIRECTIONS:
For the topping:
Combine 2 tablespoons flour, 2 tablespoons sugar and butter until crumbly. Set aside.
For the muffins:
Heat the oven to 400ºF. Spray bottoms only of 12 muffin cups lightly with no-stick cooking spray or line with paper baking cups.
Rinse, drain, and thoroughly dry blueberries on paper towels. Combine flour and sugar in small bowl. Toss blueberries in 1/4 cup flour mixture.
Whisk milk, egg and oil together in small bowl until blended. Add liquid ingredients to remaining flour mixture; stir 5 to 7 strokes (batter will not be completely mixed).
Fold in floured blueberries. Stir only until ingredients are moistened. Batter will be lumpy (do not overmix). Fill muffin cups 2/3 to 3/4 full with batter. Sprinkle with streusel topping.
Bake 15 to 18 minutes or until golden brown.
* I normally don't specify brands, but as I learned in my biscuit bake-off, there's quite a bit of variation across the self-rising flours.
** If you're using a brand of self-rising flour other than White Lily, reduce the amount of flour to 1 3/4 cups.
Thanks to White Lily for sponsoring today's giveaway. I received a Baking Essentials Kit for my own use but I received no financial compensation. All opinions expressed here are, as always, my own.