This post should come with a long overdue apology to my sister…for laughing at her (hard) almost 30 years ago. Her first grade class put together a little "cookbook" comprised of their own made-up recipes. My sister's contribution to this handwritten anthology was the concept of an apple cake.
"Bwahahahaha!! An apple cake!! Who ever heard of an apple cake?!" was my far more mature and worldly response. Everyone knew there were only three kinds of cake: chocolate, vanilla and chocolate chip. Apple cake…what a kid.
I am eating those words today. More importantly, I'm also eating a fabulous Apple Cake with Butter Pecan Glaze from the back of my last remaining package of White Lily flour (Southern friends, I'll be calling on you to ship me some more!). It's strange to say, but it almost reminded me of a carrot cake, but with a thick, rich caramel-like glaze on top instead of cream cheese frosting. It's got a lot of sugar, a lot of oil and a lot of apples. I knew it would be super moist and, oh yeah, it was.
What can I say – my little sister was onto something good.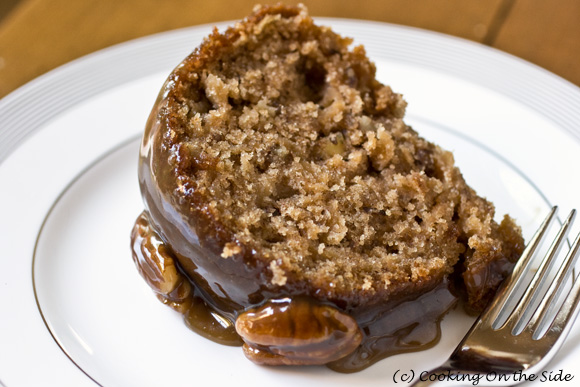 Apple Cake with Butter Pecan Glaze
From the Fresh Apple Cake with Butter Pecan Glaze recipe on the back of the White Lily Enriched Bleached All-Purpose Flour package
Prep time: 20 minutes | Cook time: 1 hour 5 minutes | Total time: 1 hour 25 minutes (plus cooling time)
Yield: 12 servings
INGREDIENTS:
Apple Cake:
3 cups

White Lily all-purpose flour*

2 teaspoons

ground cinnamon

1 teaspoon

baking soda

1/2 teaspoon

salt

2 cups

firmly packed brown sugar

1 1/2 cups

vegetable oil

3

large eggs, lightly beaten

4 cups

grated apples, about 4 large

1 cup

chopped pecans

2 teaspoons

vanilla extract
Butter Pecan Glaze:
1/4 cup

butter

1/2 cup

pecan halves

3/4 cup

firmly packed brown sugar

1/4 cup

heavy cream

1/4 cup

corn syrup

1/8 teaspoon

orange extract (optional)
* White Lily has a low protein content, so if you're using another brand of all-purpose flour use just 2 1/2 cups + 2 tablespoons.
DIRECTIONS:
For the Apple Cake:
Heat the oven to 350°F. Coat a 10-inch fluted tube pan with no-stick cooking spray.
Combine the flour, cinnamon, baking soda and salt in a medium bowl. Beat the brown sugar, oil and eggs in a large bowl. Gradually add the flour mixture. Stir in the apples, pecans and vanilla. Pour into the prepared pan, no more than 3/4 full.
Bake for 50 to 55 minutes or until a toothpick inserted in the center comes out clean. Cool 15 minutes on a wire rack before removing from the pan. Finish cooling on a wire rack.
For the Butter Pecan Glaze:
Melt the butter in a small saucepan. Toast the pecans in the butter over medium heat, stirring constantly. Mix in the brown sugar, cream and corn syrup. Bring to a rolling boil. Cook about 2 minutes, stirring constantly. Remove from heat. Blend in orange extract.
Cool the glaze until thickened. Drizzle over the cake. Extra glaze may be spooned over individual slices, if desired.