I hadn't heard of sopes until a friend of mine brought over some that her mother, who is from Mexico, had made. This was back in my single days – which seem like forever ago, although we're only talking circa 2003 – when I had my own one-bedroom apartment in one of those '50s-era buildings in West Hollywood. On Sunday nights, I'd have a small group of girls over for cosmos and watching Sex and the City. We devoured this homemade snack.
Sopes, it turned out, were these little golden-fried masa discs with raised sides to cradle fillings like refried beans, cheese, lettuce and salsa. When you bite into them, the edges are light and crispy while the center of the sope is softer. It tastes much like an extra-thick corn tortilla, which it essentially is – formidable enough to support all the goodies inside. I was excited to recently find a recipe for sopes on the side of a package of masa harina (the main ingredient). I'd been wanting for years to try these again!
Making the sopes was incredibly easy. And it wouldn't have taken much time at all had I remembered just how long it takes for oil to heat up for frying (I always underestimate this!). I wound up making only about 10 sopes, although the recipe said it would yield twice that amount. Still, it was more than enough for our family to have for dinner. Now that I have this 5 lb bag of masa harina in my pantry I imagine we'll be making these more often!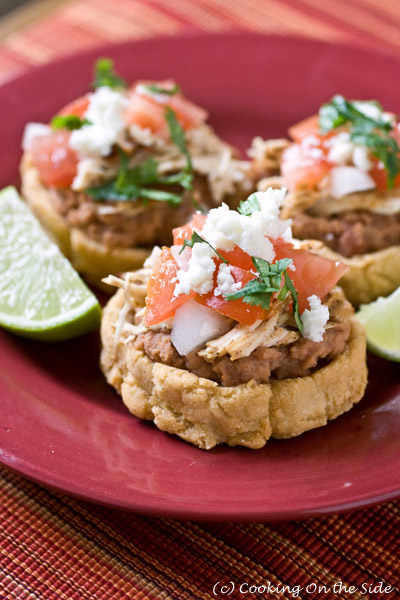 Mexican Chicken Sopes
From the Sopes MASECA recipe on the side of the MASECA Instant Corn Masa Flour package
Prep time: 30 minutes | Cook time: 30 minutes | Total time: 1 hour
Yield: 20 sopes
INGREDIENTS:
2 cups

masa harina (e.g., Maseca, Quaker or Bob's Red Mill brands)

1/4 teaspoon

salt

1 1/4 cups

water

1 1/2 cups

refried beans

2

cooked chicken breasts, shredded

1 cup

tomatoes, chopped

1

large onion, chopped

3 ounces

añejo cheese, crumbled (may substitute feta)

1 cup

romaine lettuce, finely shredded

Red or green hot sauce

Crema Mexicana (or sour cream)

Oil for frying
DIRECTIONS:
In a medium bowl, mix masa harina, salt and water thoroughly (it's easiest to do this with your hands) for about 2 minutes to form a soft dough. If the dough feels dry, add more water (one tablespoon at a time).
Divide masa into 20 portions and roll into balls. Cover with plastic wrap to prevent drying.
Preheat an ungreased comal or griddle to high temperature (450° to 475°F). Place a ball between two sheets of heavy-duty plastic wrap. Roll out or flatten ball to form a 2 1/2-inch to 3-inch diameter circle, about 3/8-inch thick (a sope).
Cook each sope for one minute on the preheated comal. Turn and cook the second side until lightly browned.
Carefully remove from heat; on the first cooked side, pinch the edges to form a raised rim about 1/4-inch high. Sopes will be hot! Repeat with all remaining sopes. Keep sopes covered with a cloth napkin.
Heat 3/4-inch of oil in a frying pan to 360°F and fry sopes until lightly golden. Drain on paper towels.
Heat beans and spread one tablespoon on each sope. Top with chicken, tomato, onion, cheese, lettuce and crema Mexicana. Serve with your favorite hot sauce.