Can someone please explain tart pans to me? I finally bought one over the weekend – the last remaining holdout in my baking arsenal – and, wow, was it a pain to use! Like literally – I ended up with no fewer than ten superficial quarter-inch cuts all over my hands following 20 minutes of scrubbing away all of the baked-on pastry from the innumerable crevices of the fluted edges (desperately avoiding Purell and other stinging agents right now).
Sorry for that visual, but ouch!!
The other thing that happened – major leakage from the removable pan bottom. Soon after my quiche went into the oven the savory aromas began to swirl around the kitchen. Then things turned a little less savory. Kinda burnt, actually. Sure enough, there was a puffy yellow pool of custard on the oven floor, with more oozing its way down from the base of the pan. At least I'd had the foresight to slip a baking sheet under the pan so the mess wasn't quite as bad as it could have been. But seriously…is there some kind of trick to using these things? Your advice will be much appreciated!
On the bright side…the Asparagus Quiche with which I debuted this treacherous new tart pan did ultimately come out wonderfully. The recipe comes from a package of Challenge Butter. If you recall their Orange Mango Nut Bread with Ginger Honey Butter, Gingerbread Biscotti with Apricots or Pumpkin Spice Cake you know these guys know their way around butter. Obviously, the chance to showcase the beautiful fresh springtime asparagus we're starting to see in the markets is the main reason to bake this quiche. But I'll bet you'll also fall in love with the sweet onions that are sautéed in curry butter – mmm! If I can just get the hang of this tart pan, I'd love to make this quiche again a few more time before spring is up!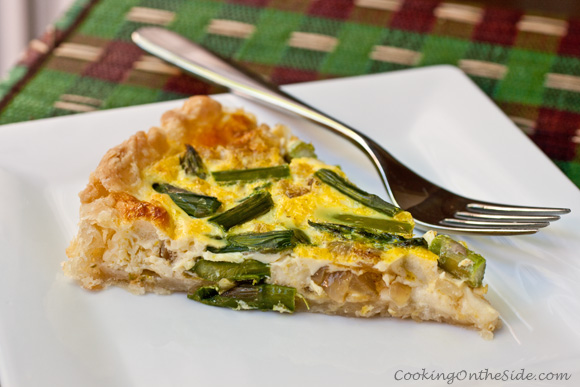 Asparagus Quiche
From inside the Challenge Unsalted Butter package
Prep time: 1 hour | Cook time: 35 minutes | Total time: 1 hour 35 minutes
Yield: 6 servings
INGREDIENTS:
Pastry:
1 1/4 cups

all-purpose flour

1/4 teaspoon

salt

6 tablespoons

unsalted butter, cold and cut into 1/2-inch cubes

3 1/2 tablespoons

ice water*
Filling:
3/4 to 1 pound

fresh asparagus spears, cleaned and cut into 3/4-inch pieces (2-2 1/2 cups)

3 tablespoons

unsalted butter

1/2 teaspoon

curry powder

1/8 teaspoon

ground cayenne pepper

1 cup

chopped onions

4

large eggs

3/4 cup

milk

1 teaspoon

salt

5 ounces (1 1/4 cups)

shredded Monterey Jack cheese
DIRECTIONS:
Pastry:
Combine flour and salt in a food processor bowl with a steel blade and blend for 8 seconds (or whisk together in a large bowl). Cut in butter by pulsing 8 times with food processor (or use a pastry cutter), until mixture resembles coarse meal. Do not over blend. Add water and mix just until dough comes together.
Put dough in a plastic bag and chill 30 minutes. Roll on a lightly floured board and fit pastry into an 11-inch tart pan with removable bottom. Chill until ready to fill.
Filling:
Blanch asparagus for 4-5 minutes in boiling water, cool in ice water, drain and set aside. Melt butter in a small sauté pan over medium heat. Add curry and cayenne pepper; cook one minute. Sauté onion in curry butter until soft and most of the moisture has evaporated; set aside to cool. In a small bowl beat eggs, milk and salt.
Preheat oven to 375°F.
Sprinkle cheese into chilled pastry shell. Spread onion mixture and asparagus over the cheese. Pour egg mixture over the top.
Bake 30-35 minutes or until the custard is set and golden.
* I live in a dry climate and find I almost always have to add a bit more ice water than pie crust recipes call for in order to get the dough to come together.