I have been holding onto this Gingerbread Biscotti recipe for months now, waiting for the holidays to give it a try. It was definitely worth the wait, although I wish I'd tried it much sooner – they are fantastic!
Most of the biscotti I've had in the past have been tasty but not especially noteworthy on their own. They usually come to life upon being dunked in a nice cup of coffee or tea. But these spices within these Gingerbread Biscotti, along with the fresh ginger and dried apricots mixed in, have wonderful flavor all on their own. I confess to having enjoyed several without even dunking.
I enjoyed these with a regular cup of Starbucks coffee, but do you know what I think would be a fantastic pairing? A chai latte. Something with nice, spicy notes to complement the spices in the cookies. Just thinking about it is making me want a chai right now…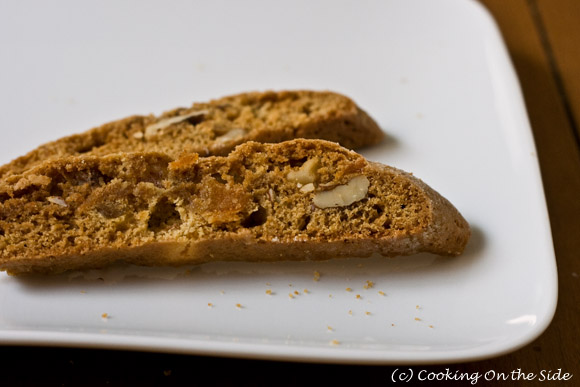 Gingerbread Biscotti with Apricots
From inside a Challenge Unsalted Butter package
Makes 30 cookies
INGREDIENTS:
1/2 cup (1 stick) unsalted butter
1 cup sugar
1 teaspoon ground ginger
1/2 teaspoon allspice
2 eggs
2 tablespoons molasses
1/4 cup finely minced fresh ginger root
3 cups flour
1/2 teaspoon baking soda
3/4 teaspoon salt
3/4 cup chopped almonds
1/2 cup chopped dried apricots
DIRECTIONS:
Cream butter, sugar, ground ginger and allspice until light and fluffy. Beat in eggs, molasses and chopped ginger root. Combine flour, baking soda and salt; blend into butter mixture. Mix in almonds and apricots. Chill dough for ease of handling (I let the dough chill for about 30 minutes).
Preheat oven to 325°F.
Divide dough in half. On a lightly floured surface, shape each portion into two 12-inch long logs. Place logs on a lightly buttered or parchment lined cookie sheet (ensure there are several inches of space between the logs, as they will spread as they bake). Bake 30-35 minutes or until firm. Cool and cut diagonally into 3/8-inch slices. Place slices on a cookie sheet and bake at 250°F for approximately one hour to dry the biscotti.