It isn't the holidays until someone breaks out a cheese log, am I right? Well this year I guess that someone is me. I can honestly say I've never really been all that into cheese logs. The whole concept is so odd…rolling out cheese into log form, crusting it in nuts and serving it with crackers? It's just always seemed like this strange retro holiday food that's continued to show up on appetizer tables inexplicably over the years.
I decided to make one – what the heck? What convinced me was the ingredient list in this recipe, which actually sounded like something I'd want to eat. Feta, cream cheese, Swiss cheese and honey? That combo was sure to be super tangy and a little bit sweet. And I've definitely demonstrated my affinity for cranberries and pecans over the past month. It would come together quickly and I could easily refrigerate and transport it to the holiday party I'm attending on Tuesday. Really…what's not to like?
So I abandoned my past judgments on the issue and made one tasty holiday cheese log.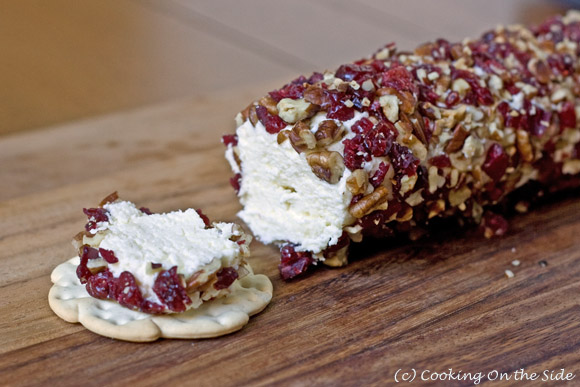 Holiday Cheese Log with Cranberries & Pecans
From the side of the Lucerne Reduced Fat Milk carton
Makes 24 servings
INGREDIENTS:
4 oz. crumbled feta cheese, at room temperature
4 oz. cream cheese, at room temperature
1 cup Swiss cheese, shredded
2 teaspoons honey
1/2 cup finely chopped pecans
1/2 cup finely chopped dried cranberries
Assorted crackers for serving
DIRECTIONS:
Using an electric mixer or food processor*, mix the cream cheese, feta, Swiss and honey until combined. Transfer cheese onto a sheet of foil and roll into a 1.5″ x 10″ log. Close foil and refrigerate for 1 hour or until firm.
Mix pecans and cranberries, and spread into a rectangle on a clean sheet of foil. Roll log over the mixture to coat all sides evenly. Wrap in plastic wrap and refrigerate. (Log may be refrigerated up to 3 days.) Remove from refrigerator 15 minutes before serving. Serve with crackers.
* I opted to use a food processor, as I wanted the Swiss cheese to be chopped up really finely amongst the two softer cheeses.